Main Content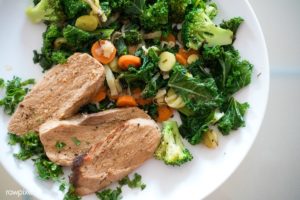 When one thinks of a nutrient rich meal, pork products aren't generally the first food that comes to mind for most.  That written, compared to values from a decade ago, pork today is on average leaner, contains less fat (up to 31%), and also has fewer calories (up to 14%).  In fact, according to The Ohio State University, it has been estimated that pigs are about 23% leaner than those produced years ago.
Nutritional Value of Pork
The following is a table provided by The Ohio State University.  It is based on a three ounce serving of pork.
Nutritional Value of Pork
The following information is based on a 3 ounce serving of pork. As you can see these nutrients make pork a nutrient-dense food!
Nutrient
% Daily Value (DV)
Why It's Good for You
Iron
7%
Getting enough iron is a problem for some women, especially women of child-bearing age. Heme iron (found in meat) is absorbed more readily than nonheme iron (found in plant based foods). Thus, anyone who avoids meat without the help of their health professional may increase their risk of iron-deficiency anemia.
Magnesium
6%
Important for the normal function of many enzymes (catalysts for the body's chemical reactions), glucose and muscle action.
Phosphorus
22%
Strengthens bones and generates energy in cells.
Potassium
11%
This mineral, also known as an electrolyte, plays a major role in water balance and helps maintain normal blood pressure.
Zinc
15%
A component of more than 70 enzymes, zinc is a key player in energy metabolism and the immune system.
Thiamin
53%
Without this key mineral, metabolism of carbohydrate, protein and fat would be significantly comprised. Animal protein is one of the best sources of this nutrient, and among the choices, pork is tops.
Riboflavin
19%
Next to milk, there are few foods that have a as much riboflavin per serving as pork. Riboflavin has an important role in the release of energy from foods.
Niacin
20%
Important for the normal function of many enzymes in the body and involved in the metabolism of sugars and fatty acids.
Vitamin B12
33%
Helps build red blood cells and metabolize carbohydrates and fats.
Vitamin B6
(Pyridoxine)

18%
Important for the normal function of enzymes and co-enzymes, which are needed to metabolize protein, carbohydrates and fats. Plus, it plays a critical role in the regulation of glycogen (stored carbohydrates) metabolism.
Pork Compared to Other Meats
Because of advances in modern pork production, compared to other cuts of meat, pork is at or about the same level as beef and poultry.
Pork Tenderloin,
Broiled, 3 oz.
Skinless Chicken Breast,
Broiled, 3 oz.
Beef Tenderloin,
Broiled, 3 oz.
Calories
139 calories
139 calories
179 calories
Fat
4.1 grams
30. grams
8.5 grams
Cholesterol
67 milligrams
72 milligrams
71 milligrams
Pork Cuts vs. Chicken
According to information from the United States Department of Agriculture, any cuts from the loin (such as pork chops and pork roast) are leaner than a skinless chicken thigh.  In fact, there are seven cuts of pork that meet the USDA guidelines for lean. Below is a table for the Pork Checkoff website comparing those seven cuts of pork against skinless chicken breast.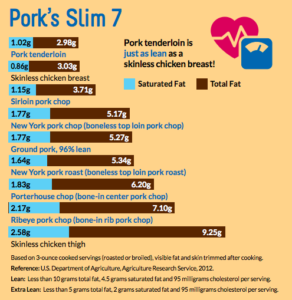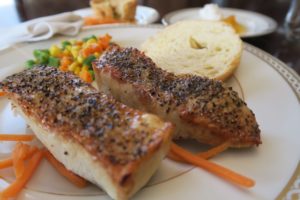 Consumers today should be impressed by the improvements to the nutritional value of commercially available pork products.  Because of improved genetics and research, pork today is as healthy as it has ever been.
Sources:
https://www.pork.org/cooking/nutrition/compare/
https://www.ars.usda.gov/ARSUserFiles/80400525/Data/Meat/Pork09.pdf
The Ohio State Swine Resource Handbook for Market and Breeding Projects (2001)
By Matthew Newman, Monmouth County 4-H Agent, Rutgers Cooperative Extension