Main Content
One of the stars of the ABC sitcom Modern Family is Emmy Award winning actor Eric Stonestreet.  A native of Kansas City, Kansas, Eric is a proud 4-H alum.
In June of 2017, Eric was a guest on The Late Show with Stephen Colbert.  As most guests do, Eric spent a large part of the interview discussing his ongoing projects (such as Modern Family).  At around the 6:20 mark of the clip below, however, things got really fun for those interested in 4-H swine projects.
It was at that point that Eric shared his history with both 4-H and with swine projects.  As a former president of his 4-H club ("Yeah, I was in 4-H – president of my club.  Brauer Beavers!"), Mr. Stonestreet went on to answer some random swine trivia questions as asked by Mr. Colbert.
Before being grilled on national TV in front of a live studio audience, Stonestreet first volunteered a bit of trivia himself – that "pigs are the fastest domestic animal to go feral."  What does that mean?  In no uncertain terms, "going feral" is when a domestic pig reverts to its wild state.  In a matter of months, a domestic pig can revert to a state where it can survive in the wild without human intervention.  Natural scavengers, pigs are able to readily adapt to their environment, and can thrive in just about any condition.  Once in the wild, feral swine are an invasive species.  As they can be prolific breeders and, as rooting is a natural behavior for them, they can cause significant damage to delicate ecosystems.  This is all the more reason to make sure your animals are kept in safe, clean, and secure housing.
Very soon, Mr. Colbert started asking the questions.  Perhaps, thanks in no small part to his experiences and lessons learned having been enrolled in 4-H swine projects, the affable Stonestreet was more than prepared.
The first question asked was "What's the average gestation period for a pig?"  Without hesitation, Stonestreet said, "oh, to have a baby – to be bred and have a baby?" followed immediately by "three month, three weeks, three days."  Colbert's reply?  "That's exactly right!"
The "three months, three weeks, three days" is a perfect mnemonic device for remembering the gestation period of a domestic market pig.  Give or take a day or two, the average gestation period (the time between being bred and giving birth) is 114 days, which roughly equals the "3, 3, 3" rule referenced by Stonestreet.
The next question asked by Colbert, "how long should it take a healthy pig to gain 60 pounds?"  Without missing a beat, Stonestreet said with confidence, "60 days because they can gain a pound a day."  Well, this one wasn't quite as on the nose as the other answers.  Though there are many variables to take into consideration, for a healthy 4-H swine market project, the average daily rate of gain for a pig is usually about 1.5 – 1.8 lbs. per day (and may actually be closer to 2 lbs. per day for certain 4-H swine projects).  (For more information about this, please refer to an earlier 4-H Animal Science Resource Blog article, Math Isn't Hog Wash When It Comes to 4-H Swine Projects.)
Even if not all of his answers were 100% spot on, Stonestreet was clearly proud of his experiences as a youth member in 4-H, and even after all the years that have passed and the incredible opportunities he has taken advantage of, he can still remember the lessons he learned as a 4-H member.
To view the clip yourself, simply click on the picture below.  Between the 6:20 – 7:40 mark is when 4-H swine projects are talked about.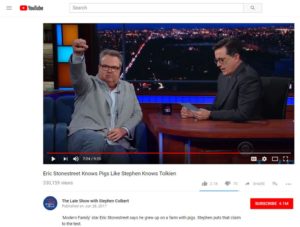 By Matthew Newman, Monmouth County 4-H Agent, Rutgers Cooperative Extension