Main Content
The Garden State is known for corn, tomatoes and blueberries. New Jersey is the "Diner Capital of the World" and home of the famous Taylor Ham vs Pork Roll debate as well as the Jersey Shore.  But, did you know that Southern New Jersey is home to a special habitat called the Pine Barrens?
The Pine Barrens are so named because of the sandy soil. European settlers found it was poor for farming, and instead they tapped the Pine Barrens for its natural resources of timber, bog iron, and sand. It is the largest surviving open space on the eastern seaboard between the northern forests of Maine and the Everglades of Florida.
This region is considered extra-special for herpetologists because many species of reptiles and amphibians that are considered southern species make their home in the NJ Pine Barrens as well! Here are some of these amazing reptiles and amphibians that can be found in southern NJ!
Pine Barrens Treefrog
Hyla andersoni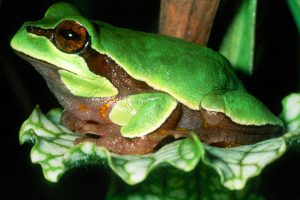 This is a small, green arboreal tree frog (1-1.5 inches total length), with suction-pad disc shaped toes. These frogs can be easy to find in the spring because males have a distinctive call that sounds like a low, nasal "quonk" and which can be heard during breeding season from mid-May to mid-June. While found specifically in the Pine Barrens, they specialize there in cedar and sphagnum bogs and swamps. These frogs have long been considered an icon of the New Jersey Pinelands and while easy to find and observed readily in appropriate habitats and times in late spring, they disappear into surrounding uplands for the remainder of the year. Due to their limited distribution in NJ, these frogs are considered state endangered.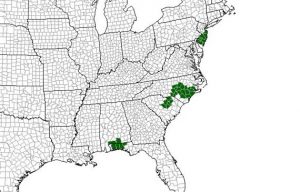 Click here to learn more about Pine Barrens Treefrogs!
Northern Pine Snake
Pituophis melanoleucus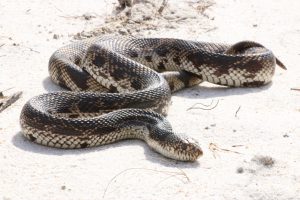 Pine Snakes are black and white and the largest snakes of NJ (and are among some of the largest snakes of the USA, getting as large as 66 inches in NJ). These snakes are constrictors and often feed on rodents and birds and their eggs. The Pine Snake is one of the few snakes that excavates its own nesting burrow in open, sandy fields, which is why sand habitat, like that of the Pine Barrens, is so vital to their survival. They are typically found in flat, dry, sandy pine country. They can be locally common in the Pine Barrens, but threatened throughout the state of New Jersey, partially due to illegal collecting by the pet trade.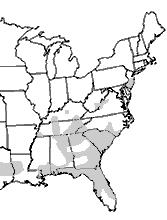 Click here to learn more about Pine Snakes!
Corn Snake
Pantherophis guttatus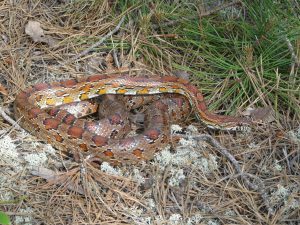 Corn Snakes are beautiful, often vibrant orange and red snakes that get up to 48 inches long. Their name comes from the checkerboard ventral pattern which resembles corn kernels on wild-type corn. They are constrictors that feed largely on mice and rats, as well as birds and small rabbits. Young corn snakes often eat lizards as well, only switching to mammals as adults. These snakes are good climbers, but mostly terrestrial and are associated with sandy pine forest habitat. In NJ, these snakes are only found in Burlington, Cumberland and Ocean Counties. These snakes make good pets but should never be taken from the wild (and are easily available as captive bred babies in a variety of colors as well)! They are protected as endangered in NJ due to the small geographic range they inhabit.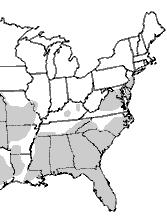 Click here to learn more about Corn Snakes!
 Learn more about the Pine Barrens.
By Sara Ruane, PhD, Assistant Professor Herpetology and Evolutionary Biology; Lisa Rothenburger, Somerset County 4-H Agent, Rutgers Cooperative Extension