Main Content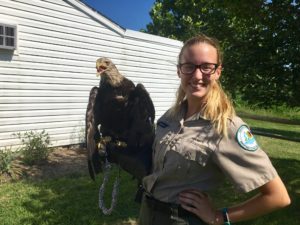 Name: Erin Morton
Job Title: Park Service Associate
Organization: Maryland Park Service
Education/Degree: Bachelors of Science, Major; Wildlife Conservation and Management
1. Are you a 4-H Alumni?
Unfortunately I was not in 4-H, but I always wanted to be!
2. What does a typical work day look like for you? (hours, activities, work environment, responsibilities, etc.)
Working in a state park is very exciting because almost every day is something different. Hours vary throughout the seasons; during the summer there is a day ranger who works 8am-4:30pm, and a night ranger who works 2pm-10:30 pm. The work activities include interacting with park visitors and campers, cleaning and maintaining the park and its facilities, opening and closing day use areas, providing interpretive programs for the public, care of our Scales & Tales program animals, and encouraging people to visit nature in our State Parks.
3. What is the most enjoyable part of your career?
The most enjoyable part of my career is the working with the animals in the Scales & Tales program. The purpose of this program is to use native non-releasable raptor and reptiles to educate the public on native wildlife and what actions they can do to help protect our wildlife. The Tales portion of the program is a story about how the animal was injured and how it could have been avoided. We have several turtles, snakes, owls, hawks, and a falcon in our program.
4. What are some of the challenges you face in your career?
I was not very comfortable with public speaking when I first started doing Scales & Tales presentations, but practice makes perfect so I am over coming my uncomfortableness. In 4-H I hear you have to give public presentations, whichI find to be so cool because if I was a 4-H'er I would have learned this skill, which would make speaking in front of the public not so bad!
5. What was your favorite science class in school and why?
Entomology, because I really like insects. I still have my insect collection from my entomology class and have added to it since the class. I also have set up several interpretive programs about insects for park visitors to enjoy.
6. Can you share advice for youth aspiring to join your profession? (Colleges, majors, internships, tips, tricks, etc.)
If you are interested in becoming a Park Ranger the best thing to do is get out into the parks, volunteers are always needed, get a seasonal job at your local state/county park, or even participate in the programs they offer like JR Rangers, Park Pals, and day camps! Maryland Conservation Corps is a fantastic program for 18-25 year olds, it is a branch off of AmeriCorps and when you finish you get an education award to use towards college or student loans.
7. Which activities can help youth develop the specific skills needed to succeed in your field? 
Public speaking
Write stories/ Journal
Sketch, draw and paint
Be in leadership roles at school and in 4-H
Spend time outside in nature
Stay physically healthy
Keep a tidy/organized room
Babysit/Work with Kids
Garden
Take care of a pet
Community service
Wildlife Observation
Geocaching
Other suggested activities/skills: Computer Skills, Good communication; Learn another language, kayaking/canoeing, hiking, biking, fishing, camping, learning and being able to identify native plants and animals.