Main Content
In these uncertain times, some horse owners are trying to save money and are asking themselves if spring shots matter. Are vaccinations critical for your horse's health? The answer is yes! Understanding which vaccines are the most important and why is also critical. For many, vaccinations are considered important only insofar as a health certificate or proof of vaccination allows the owner to take his or her horse to shows or other events. While this is a valid factor, it is not the most important one. The important factor to consider is the risk to your horse's health and life if you choose not to vaccinate.
The American Association of Equine Practitioners (AAEP) breaks vaccines into two broad classifications, core vaccines and risk-based vaccines. For a full list of the organization's vaccination guidelines you can visit their website. Core vaccines are those that should be administered to every horse. Risk-based vaccines are only administered to horses considered at high risk of contracting the disease.
Core vaccines include Eastern and Western equine encephalomyelitis (EEE/WEE), rabies, tetanus, and West Nile Virus (WNV). These vaccinations are classified as core vaccinations because most horses have a high chance of exposure to these diseases and most of the diseases have a high fatality rate if a horse is infected. EEE/WEE and WNV are spread by mosquitoes, so all horses have the possibility of being exposed to these diseases. This will continue to be the case until we convince the mosquitoes to adhere to social distancing guidelines! Since mosquitoes are active primarily in the late spring, summer, and fall, horses should be vaccinated at least yearly. These vaccines should be administered in the spring. Another vaccination in the fall may be warranted if you live in an area where the mosquito season lasts longer. The prevalence of these diseases was clearly demonstrated in the outbreak of EEE cases in New Jersey during the fall of 2019. Fact sheets on EEE and WNV are available from the Rutgers University Equine Science Center, if you're interested in learning more about these diseases.
All horses have the potential to be exposed to rabies and tetanus in the environment. Rabies is carried by many wild and domestic mammals and is spread through contact of an infected animal with another animal. Tetanus is caused by a bacterium, Clostridium tetani, found ubiquitously throughout the U.S. Both rabies and tetanus should be administered on an annual basis. These five vaccines should be administered to all horses to protect their lives and health.
Refer to this handy infographic for a reminder of the core vaccines your horse should receive: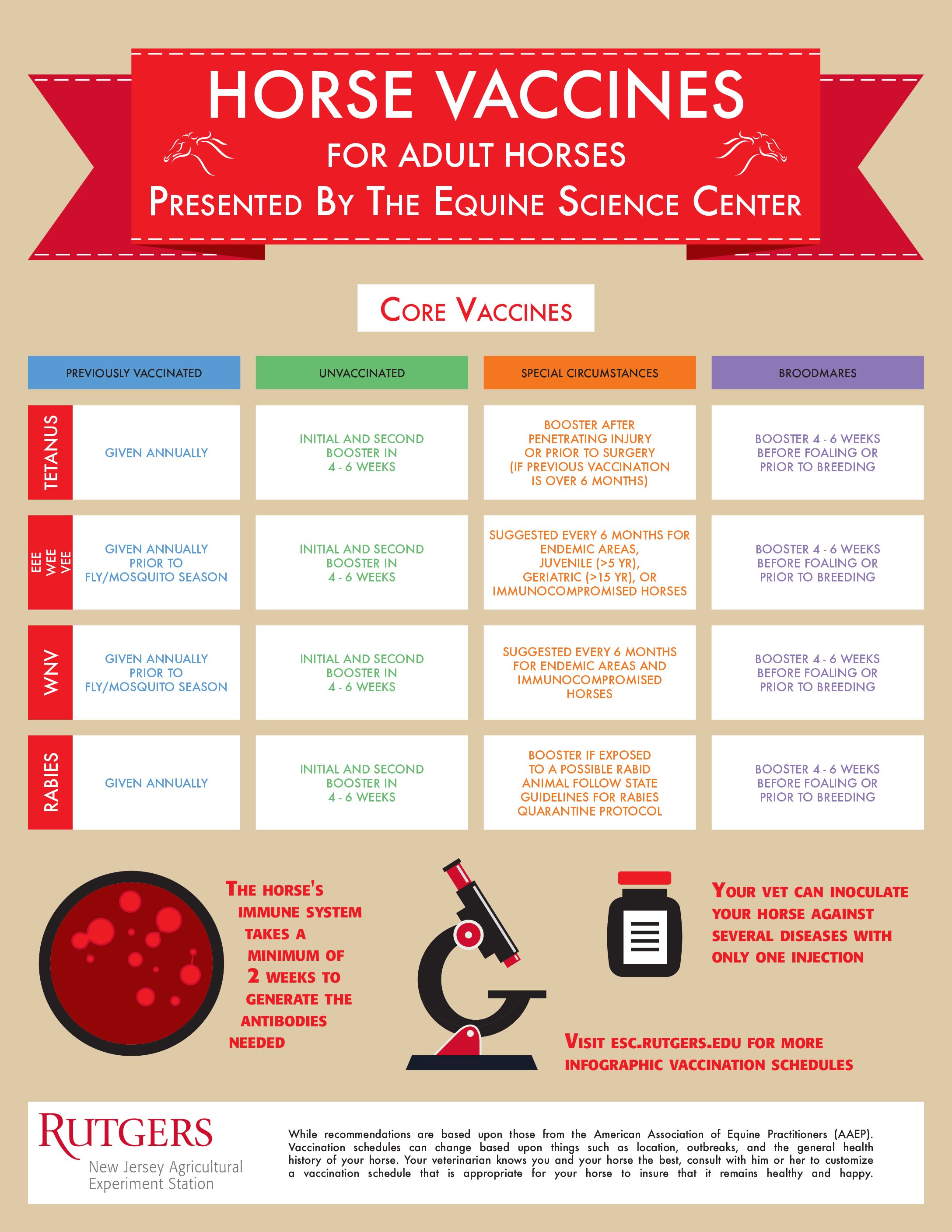 Risk-based vaccines include anthrax, equine herpesvirus (EHV), equine viral arteritis (EVA), influenza, Potomac Horse Fever (PHF), and strangles. Whether or not your horse should receive these vaccinations will be based on your geographical location as well as you horse's lifestyle. Horses that travel often or encounter other horses, especially other horses who also travel, are at higher risk of contracting diseases like strangles and influenza, making these vaccines warranted for these groups of horses. The risk-based vaccines you administer to your horse may change over time as your horse's lifestyle changes. These changes should be undertaken in consultation with your veterinarian, as reinstating a specific vaccination into your vaccination schedule may require a series of vaccinations to rebuild your horse's immunity.
Use this additional infographic along with consultation with your veterinarian to determine which risk-based vaccines your horse should receive.
It is important to note that the vaccination requirements for the New Jersey 4-H county qualifying shows and the State 4-H Show are as follows: The Proof of Eastern and Western Encephalitis, Tetanus, West Nile Virus, and Rabies vaccinations within 1 year of the date of the show. And in conjunction with USEF rules, the Equine Herpes Virus and Equine Influenza vaccinations will be required to be within 6 months of the first day of the show. Strangles vaccination is also strongly recommended but not required by the State 4-H Horse Show Committee.
Creating an appropriate vaccination schedule is best undertaken in consultation with your veterinarian. These recommendations are for mature, healthy horses. Horses with health problems, older horses, broodmares, and young horses may need different vaccinations. Again, your veterinarian will be one of the best sources of guidance for creating an appropriate and effective vaccination schedule for your horse.
Changes to your horse's show and travel schedule may warrant modification of the list of spring vaccinations your horse needs to receive. Even though the vaccinations received can be adjusted, it is imperative for your horse's health and your peace of mind for your horse to receive the necessary vaccinations. Consult with your veterinarian to determine which vaccinations to administer this spring and any changes your veterinarian may have implemented to keep safe during the COVID-19 pandemic.
By Ellen Rankins, Rutgers Equine Science Center, Ph.D. candidate in the Rutgers University Endocrinology and Animal Biosciences Graduate Program; Carol K. Ward, County 4-H Agent, Rutgers Cooperative Extension