Main Content
Many dogs across the country are suddenly getting to spend a whole lot of extra time with their favorite person…YOU!  Now is a great opportunity to teach your dog new tricks.  Does your dog know how to give paw, spin in a circle, or even get into a box?  These are just some of the Novice level tricks your dog can learn and earn an AKC title in Trick Dog.  Unsure of how to get started?  Videos on the AKC website will help guide you through training your dog to perform these delightful tricks.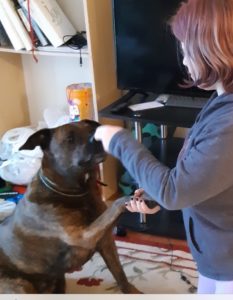 The more tricks your dog learns, the more AKC titles they can earn!  Simply submit a video of your dog completing the list of required tricks along with the Trick Dog application.  An AKC Evaluator will review your submission.  Dogs can earn titles from Trick Dog Novice all the way to Trick Dog Elite Performer.  Novice level requires 10 tricks, many of which are classics such as fetch, shake, and speak.  Dogs that have passed the Canine Good Citizen test only need to complete 5 tricks.
At the highest level, Elite Performer, dogs must perform a routine that has a story or script and at least 5 props are used.  This is similar to how dogs perform for the movies.  Perhaps your dog is the hero of the story and is working to save you from certain doom.  Or maybe your dog is doing their best to escape from the dreaded bath time.  Get creative with your story!  Be sure to work to your dog's strengths.  What is something they are especially good at or enjoy doing.  Turn that into a trick and build your story from there.
Looking for more ways to keep you and your dog busy at home?  The AKC website offers many ideas to keep up training in Obedience, Rally, Agility, Scent Work, and much more.  All of these require little to no equipment and your imagination.  What kind of agility obstacles can you create for you dog?  How well can your dog navigate around the furniture while heeling?  Can your dog find the one treat hidden among several containers?
You can also make up new games to play with your dog.  Hide and seek is a great way to practice recall and have fun.  Take a look at these funny videos of dogs and owners playing together.  Start by showing your dog the delicious treat you are holding.  Then, put your dog in a stay (sit or down).  It may help to ask a family member to watch your dog to make sure they don't break the stay too early.  Go and hide somewhere in the house that would be easy for your dog to find you such as behind a door or under a blanket.  Start with easy hiding places so your dog "wins" and wants to keep playing.  When you are ready, call your dog and listen for them as they search for you and that tasty treat.  When they find you, make sure you give a lot of praise and the treat.  Keep playing as long as your dog wants to and slowly increase the difficulty in hiding spots.  If your dog is having trouble finding you (or loses focus), listen for when they are getting further away from you and then call them again.  Some dogs may need extra hints to find you.  Remember, this is just a game and should be fun for both of you.
This is your chance to spend quality time with your furry friend.  Take advantage of this time by playing a few fun games and learning new tricks together.  Don't forget to spend some time cuddled together for a good movie, too!
– By Kelly Dziak, 4-H Program Associate, Rutgers Cooperative Extension