Main Content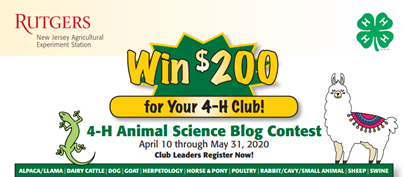 April 10 through May 31, 2020
WEEK #1 ACTIVITIES WILL BE POSTED BY 8:00 P.M., FRIDAY, APRIL 10!
Members of your club (4th grade and above) can earn points each week over the next two months, through the end of May.
The 5 clubs with the most points per member after seven weeks will earn $200 to support their club's efforts to learn or teach animal science.  In addition, up to 10 clubs from throughout New Jersey 4-H will earn $100 each.
Clubs may use these mini-grants to pay for materials or equipment, transportation, curriculum, guest speakers, field trips, entry/registration fees for educational workshops, or other items needed to advance their understanding of animal science.  The grants may also be used to support the club's efforts to teach others about animal science – including educational exhibits and events at local fairs.
Club leaders must register their clubs online to enter the contest.  Then leaders just have to promote this opportunity to their members and encourage their participation – we'll handle the rest!
Using the 4-H Animal Science Resource Blog (beginning April 10), we will post a menu of activities for club members to complete each week.  They are all optional, but members will earn points for their club for each activity they complete.  Each activity is worth a certain number of points (1 to 5).  Members choose how many they want to do each week and will include their name, club, county, and grade each time they submit a completed activity.  Activities are for those in 4th grade and above.
We'll keep track of the points earned by each club and announce the winners of the $200 and $100 animal science grants in June.
Please share the 4-H Animal Science Blog Contest Flyer with all of your club members and encourage their participation.  Club leaders should register their club now.  The first set of activities will be posted to this blog on April 10.  Email reminders will be sent when each new week's activity list is available.  Questions should be directed to Chad Ripberger, County 4-H Agent, ripberger@njaes.rutgers.edu.
Good luck and enjoy learning and sharing about your project animals!