Main Content
Originally posted February 11, 2020 | Updated Feb 12, 2020 at Patch.com.   Re-posted with permission from author, Carly Baldwin, Patch Staff.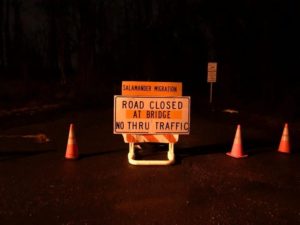 Yup, you read that correctly. One of the earliest signs of spring in central New Jersey is the annual salamander and frog migration.
EAST BRUNSWICK, NJ — New Jersey residents are used to roads closing for flooding, downed trees and power lines and even bears. But salamanders?
Yes, East Brunswick is the only town in the state that actually shuts down a local roadway to help with the annual salamander migration. Starting last Thursday and continuing for the next few months into spring, Beekman Road will have intermittent overnight closures from 6 p.m. to 6 a.m. for the annual salamander migration, East Brunswick police announced. The closure includes part of White Pine Road at the South Brunswick border.
East Brunswick resident David Moskowitz coordinates with East Brunswick police at the end of every winter to close the road. East Brunswick's location in the heart of swampy central New Jersey makes it an ideal salamander habitat: The area has several "vernal pools," a type of wetland where amphibians live. At the very start of spring, salamanders, spring peepers (a type of tree frog) and other amphibians cross Beekman Road to get to vernal pools on the other side so they can breed.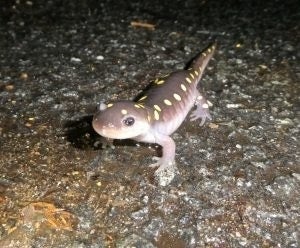 "I'm pretty sure East Brunswick is unique in our protection efforts in the state," Moskowitz told Patch. "When we found slaughtered amphibians one raw night 12 years ago, we knew we needed to do something and convinced the mayor to allow us to close the road. A huge thanks to the East Brunswick Police Department for getting everything set up."
This year, Moskowitz's group started the shutdown of Beekman Road early, due to the unusually mild winter New Jersey has been experiencing.
"This winter in central New Jersey has been anything but normal," Moskowitz wrote on his website, Friends of the East Brunswick Environmental Commission. "It is by far the mildest in my memory, and I simply cannot remember a winter where the ground hasn't really frozen and the vernal pools have lacked a decent ice cover."
"Unfortunately, we don't 'speak salamander,' so our road closings are our best guess at what might happen," he continued. "Sometimes, we are walking Beekman Road in the rainy dark with not a single amphibian. Other times, we are treated to a natural spectacle of migrating salamanders and frogs. But amphibians or not, it's always nice to know that we are getting closer to spring."
Moskowitz has doctorate and is chair of the East Brunswick Environmental Commission. He and volunteers usually patrol Beekman Road on wet spring evenings to record the migrating frogs and salamanders.
Peter Morin, a professor in the ecology program at Rutgers University, said East Brunswick is the only town he knows of in New Jersey that actually shuts down a road for salamander breeding season.
"There are locations near the Great Swamp (New Vernon) and Troy Meadows (near Parsippany) where road mortality has been a problem in the past, especially for blue-spotted salamanders," Morin said.
In fact, it's such a problem that residents of Byram Township in Sussex County have been petitioning the state government to create an tunnel under Waterloo Road to allow migrating salamanders to move safely. More than 300 salamanders and frogs per hour have been counted crossing a quarter-mile stretch of Waterloo Road on peak migration nights, according to the state Department of Environmental Protection.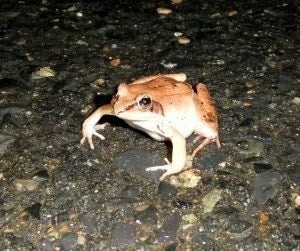 4-H Herp Blog edited by Lisa Rothenburger, Somerset County 4-H Agent, Rutgers Cooperative Extension.