Main Content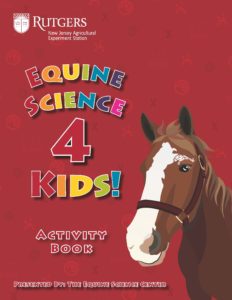 Originally developed in 2010, Equine Science 4 Kids! (ES4K) is an educational program geared towards those in grades 3 – 9. The program encourages kids to get involved in science, technology, engineering, and math (STEM) fields, using horses as a model. By developing hands-on, science-based activities and demonstrations, kids are able to better understand the science behind research taking place at the Center. By 2018 though, the original activity book had become dated, and Kyle Hartmann, Public Relations Specialist, wanted to create an updated version that would be comprised of different activities relating to the research currently being conducted at the Equine Science Center, provide children with a basic understanding of why this research is important, and present this education in a fun and interactive way. The team drafted some outlines for what they wished to accomplish, and used other activity books from places like the Museum of Natural History and the Museum of the American Indian as examples of the types of activities currently being used for this age range. Like its predecessor, the new activity book encompasses interactive puzzles and activities to get young researchers engaged in equine science. These young equine scientists will learn about biosecurity, equine assisted activities and therapies, rotational grazing and pasture management, and much more. Educational picture and word puzzles will appeal to younger scientists-in-training, while equine-oriented high-school students can engage with an interactive anatomy lesson and pasture design activity.
The team looks forward to debuting the new activity book on March 28 at the Junior Breeders Symposium. "It is beyond rewarding to see excitement on the faces of children who have learned or experienced something new about an animal that they love! These programs also provide a connection with Rutgers University, as these youth will become the future leaders and scientists within the horse industry," said Jennifer Weinert, Ph.D. candidate and contributor to the resource. "I once read a program evaluation where a child responded to a question about what they had liked best about that program by saying that they enjoyed learning all about horses and 'couldn't wait to go to Rutgers one day' when they got older."
For more information, visit the Equine Science Center's website, specifically their page focused on their outreach to youth, the Kid's Corner.
This post is from an article in the Equine Science Center's Quarterly Update, Winter, 2020.