Main Content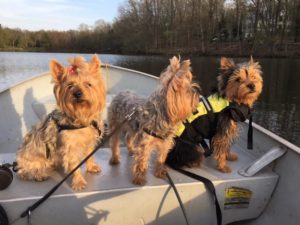 Summer vacation can take us to new places where we can discover towns, cities, and states that we haven't seen before. Summer can also be a perfect time to do some discovering with our favorite four legged friend or to see things that relate to our interest in dogs. Here are some ideas.
Planning a trip to New York City?  Be sure to check out the American Kennel Club's (AKC) Museum of the Dog.  This collection of artwork was returned to NYC in February 2019 after spending 30 years in Missouri.  The museum features more than 180 pieces of dog artwork and half a dozen interactive digital exhibits.  The museum is located at 101 Park Avenue and regular hours are 10:00am-5:00pm, Thursday through Sunday.
Also found in NYC is the 9/11 Memorial & Museum which currently features a temporary exhibit titled "Dogs of 9/11".  This exhibit will be displayed through the fall of 2019, so don't wait too long to go see it!  The art installation honors the courageous canines that assisted in the rescue and recover efforts at Ground Zero following the 2001 terrorist attacks.  The museum is located at 180 Greenwich Street and is open daily Sunday through Thursday from 9:00am-8:00pm (last entry 6:00pm) and Friday and Saturday from 9:00am-9:00pm (last entry 7:00pm).
If your travels take you to Tennessee or Alaska, be sure to check out these two museums that highlight our relationship with dogs.
The National Bird Dog Museum is located in Grand Junction, Tennessee and is dedicated to "the preservation and perpetuation of bird dog, field trial, and hunting traditions."  The museum showcases pointer and retrieving breeds, as well as hunting sports and field trial activities.  It houses art, memorabilia, photography, and sculptures.  Included in the museum are the Field Trial Hall of Fame, Sporting Dog Hall of Fame, Retriever Hall of Fame, and the Wildlife Heritage Center.
Not to be missed is the Iditarod Museum located within the Iditarod Headquarters in Wasilla, Alaska.  The log cabin museum features displays about the history of the Iditarod, a sled dog race covering 1,000 miles of rough terrain, along with photos, videos, and trophies.  You may even get a chance to meet some sled dogs.  The Knik Museum, along with the Iditarod Trail, includes the Sled Dog Musher's Hall of Fame.
Maybe your summer plans are to explore local New Jersey opportunities with your dog.  There are many places in New Jersey that are dog friendly all year round, but with the beautiful summer weather they are even better during June, July, and August.  Fairview Farm and Wildlife Preserve in Bedminster and Wolf Hill Recreation Area in Oceanport are just two of the places where you can bring your dog for a hike or some playtime.  Wolf Hill is near the Long Branch oceanfront so your dog can dip its paws into the ocean.  To find additional dog friendly attractions including beaches, parks, and more, visit the New-Jersey-Leisure-Guide.com article on "Dog Friendly Attractions".
Many restaurants that offer outdoor seating during the summer months are sometimes also dog friendly.  While this may not seem like much of an activity for your dog, most any dog simply loves being with its family no matter where you go.  Always check with the restaurant beforehand to be sure your dog is welcome.  And speaking of food, what would summer be without a trip to the ice cream parlor?  While some dogs may tolerate ice cream well, some can't.  Many ice cream parlors now offer dog specific frozen treats that won't upset your dog's tummy so that both you and your dog can enjoy this fun frozen treat.  Polar Cub in Whitehouse Station offers frozen dog cups that are a perfect way for your dog to chill alongside you.
Summer is truly a special time where we can relax and unwind a bit.  Spending time doing those things that go hand-in-hand with summer are a great way to refresh ourselves and renew our bond with our dogs.
By Mary Ann Sherry, 4-H Dog Club Leader, and Kelly Dziak, 4-H Program Associate, Rutgers Cooperative Extension