Main Content
Although we have thousands of extant (currently living) amphibians around the globe, there are many interesting extinct ones as well! Here are just a sampling of some of the amazing fossils that have been found of extinct amphibians!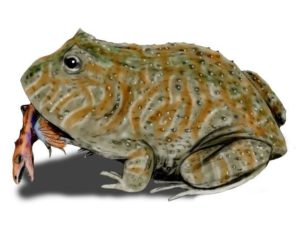 Beelzebufo ampinga – The devil frog! 
Article from https://www.popsci.com/beelzebufo-devil-frog-bite-force-dinosaur/ 
 Beelzebufo ampinga, so named for the ancient deity often called the "Lord of the Flies," was a devilish frog indeed. The species, which lived on the island of Madagascar around 70 million years ago, was likely the biggest frog that ever hopped about the Earth (National Geographic describes it, delightfully, as "beach-ball-size"). And according to new research on its modern cousins published in Scientific Reports, Beelzebufo ampinga may have had jaws powerful enough to obliterate small dinosaurs.
When scientists first described this hellish ancient amphibian in 2008, they speculated that its gaping maw might have allowed it to eat fairly large vertebrates. "If it shared the aggressive temperament and 'sit-and-wait' ambush tactics of [present-day] horned toads, it would have been a formidable predator on small animals," evolutionary biologist Susan Evans told the BBC in 2008. "Its diet would most likely have consisted of insects and small vertebrates like lizards, but it's not impossible that Beelzebufo might even have munched on hatchling or juvenile dinosaurs."
Now, almost a decade later, scientists have new proof of its hunting prowess: By calculating the jaw force of one of the frog's modern relatives, they say, they've managed to estimate how much power Beelzebufo ampinga would have packed in a crunch. Modern South American horn frogs (Ceratophrys) seem to share a lot of physiological similarities with Beelzeblurb; their mouths are so large they're often called "Pacman frogs." The researchers found that even tiny horned frogs—with heads less than 5 centimeters across—have bite forces of 30 Newtons, or around 6.6 pounds. Humans, in case you're wondering, can inflict a bite force of something like 1,300 Newtons with our strongest teeth (the second molars). But we are slightly bigger.
When all other mechanical aspects are equal, size equals more power. That's why the scientists behind the new study estimate that larger horn frogs (ones with heads about 10 cm across) likely have a bite force of almost 500 Newtons. The study authors liken that to the pressure you'd feel balancing 13 gallons of water on a single fingertip. It comes dangerously close to the force of the common snapping turtle, which has been measured at 657 Newtons and can slice your fingers right off.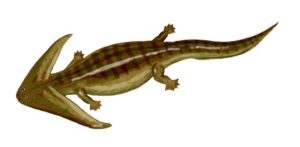 Diplocaulus magnicornis (an amphibian)
Article from https://www.newdinosaurs.com/Diplocaulus/
Diplocaulus is an extinct early amphibian that lived 270 million years ago during the Permian period. It was first discovered in 1878 in Texas and was given its name by Edward Drinker Cope in 1877. Its name means "double caul" because it has a very distinctive head that looks like a boomerang.
If you saw Diplocaulus pictures without knowing anything about them, then you would have thought it was something someone invented. However, it was a real amphibian. Facts about Diplocaulus include the one that has been theorized that its head was so unusual because it made it harder for it to be eaten by predators. A lot of the prehistoric creatures that swam in those waters probably wouldn't have wanted to struggle trying to swallow such an oddly shaped creature and would, therefore leave it alone, opting for easier prey.
Other scientists believe that its head may have been used as a hydrofoil. This would have made it possible for it to skim on top of a body of water. If that's true, then the shape of its head could have also been used as a way for this animal to steer itself. This would have allowed it to traverse streams, rivers and lakes with ease. Aside from its boomerang-shaped head, Diplocaulus also had other distinct features. It was approximately 3 feet long, had 4 shortened-legs, a long and flat tail and weighed around 5-10 pounds. It lived in the ancient swamps which are now known as Texas and probably lived off a diet of fish – making it a piscivore.
Recently, there have been a lot of stories circulating the Internet about Diplocaulus – stories that claim that this creature is still alive. However, those claims have been debunked as hoaxes. These amphibians have been extinct for quite a long time now.
Sara Ruane, PhD, Assistant Professor, Department of Biological Sciences, Rutgers University-Newark
Lisa Rothenburger, County 4-H Agent/Associate Professor, Department of 4-H Youth Development, Rutgers Cooperative Extension