Main Content
We decided to ask Dr. Paul Hime who was interviewed in a previous post about hellbenders, how he became a Genomics Specialist.
Dr. Hime, what is your official title?
I'm a postdoctoral researcher at the University of Kansas Biodiversity Institute and Natural History Museum. My official title is "Genomics Specialist."
What is it you do?
I'm an evolutionary biologist who uses information from genomes to understand how different organisms are related to each other and how and why species form. I sequence organisms' genomes and use that information to study how they have evolved. Some of my work addresses basic questions. But some of my work has more of an applied conservation focus, such as designing ways to tell if salamanders are male or female by performing a simple DNA test or working out whether hellbenders are all the same species or not so that we can better conserve them in the wild. At the Biodiversity Institute, I also manage our genomics lab, which is used by dozens of researchers to extract and sequence DNA from organisms as diverse as amphibians, reptiles, birds, fish, mammals, and insects.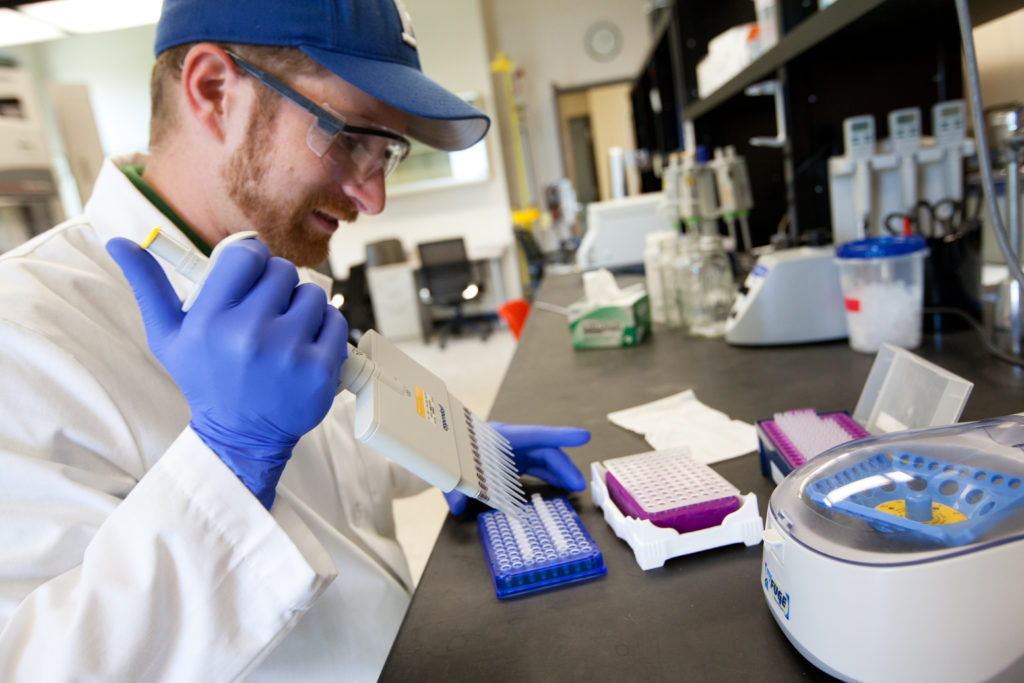 What got you interested in this field?
I've loved science ever since I was really young. Like a lot of people who grew up to be biologists, I spent a lot of time as a kid tromping through the woods, catching animals, and reading about nature. I developed an interest in herpetology early on, thanks to the influence of my parents. In middle school and high school, I took advanced placement classes in science and math and that really sparked my interest in pursuing a career in biology. I went to college at Washington University in St. Louis, where I majored in biology. As an undergraduate, I got to work in the evolutionary biology lab of Dr. Jonathan Losos. His lab studied lizard evolution, and I got to travel to Jamaica and the Dominican Republic to catch and study anole lizards. In college, I also got a lot of exposure to the graduate students and postdocs working in the lab, and I developed an interest in research. After I graduated with my bachelor's degree, I worked for three years as a research technician. In addition to reptiles and amphibians, I had always been very passionate about conservation, and I was able to combine these as a zookeeper at the Saint Louis Zoo, where I worked for four years. I was really interested in research, and I made the tough decision to go back to school to study hellbenders. I attended graduate school at University of Kentucky, where I joined the lab of Dr. David Weisrock. After earning my Ph.D., I joined the Biodiversity Institute where I am now.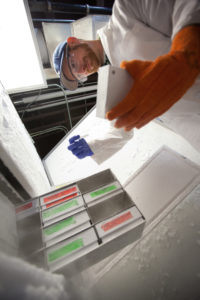 Why study Hellbenders?
Ever since I first came across a drawing of a hellbender in one of my earliest field guides, I was hooked. What's not to love? It has an awesome name, lives under giant boulders in rivers, looks like it could have come from before the age of dinosaurs, and is over two feet long! It would take nearly twenty years from first learning about hellbenders to finally seeing my first hellbender in the wild. As a zookeeper, hellbenders became a big interest of mine, not just in terms of working with them in the wild and in the captive breeding programs at the Saint Louis Zoo, but also in terms of working to answer questions about their biology and their evolutionary history that could help to conserve them. It always feels like a really special experience to be able to be close to these remarkable animals in the wild, and I want my work with these salamanders to have an impact so that my children and grandchildren might be able to see hellbenders in the wild.
Credit:
Paul M. Hime, Ph.D., Postdoctoral Researcher, University of Kansas Biodiversity Institute, paul.hime@ku.edu, Dyche Hall, 1345 Jayhawk Blvd, Lawrence, KS 66045-7593
Lisa Rothenburger, County 4-H Agent/Associate Professor, Department of 4-H Youth Development, Rutgers Cooperative Extension