Main Content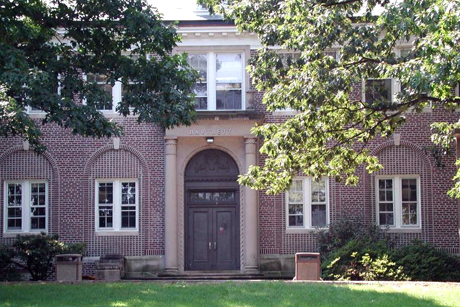 If you know you want to spend your life working with animals and are focused on studying Animal Science after high school, it is also important to know that veterinary school is only one of several career options after college.
When applying to schools, be sure that the Animal Science program you attend will see you graduate with a Bachelor of Science (B.S.) degree. This is the case with the Animal Science degree from the Rutgers School of Environmental and Biological Sciences (SEBS).
Let's examine the Rutgers Animal Science program to see the many options this course of study can prepare you for.
To obtain this degree, a college student must earn 128 credits.
39 of these are from core coursework, with classes in biology, chemistry, and more.
61-77 credits are earned in the Animal Science curriculum option that a student chooses.
Electives are also included in this degree, and may direct students to new interests or career paths.
The different curriculum options within Animal Science at Rutgers are:
Lab Animal Science, which prepares students for careers in drug and pharma research.
Equine Science, animal science specific to raising and caring for horses.
Pre-Veterinary Studies, which prepares students to apply to veterinary school by their junior year. (Check out the VMCAS, the common application to Vet school, to see what this entails.)
Production Animal Science, which introduces students to the world of agribusiness and farming. Interestingly enough, this is the course of study that prepares a student for work as a zookeeper as well.
Companion Animal Science, which takes a broad view of health and well-being of companion animals, including those kept as household pets.
Because this program awards a Bachelor of Science degree, learners who change their minds about vet school can go on to other areas of science or health, such as dentistry, the physician assistant field, and other growing areas within healthcare. Students with this degree may also choose to work for the USDA, for medical publications, or the booming world of research and sales in animal nutrition and pharmaceuticals.
Students may also earn a double major or a minor in another field of study to broaden their career horizons after graduation. Consider the possibilities with:
Biological Sciences
Biological Technology (a five-year degree)
Ecology
Marine Science
Nutritional Science
Psychology
Food Science
All of these exciting courses of study can open up new career paths to you.
IMPORTANT NOTE: Veterinary technician is a great career path that many 4-Hers express interest in. Keep in mind that a four-year degree in Animal Science is not the same as a certification for this career. Learn more about the Veterinary Technician National Exam here.
For more information about the Animal Science undergraduate program at Rutgers University, contact:
Aparna Mahakali Zama
Undergraduate Program Director
Phone: 848-932-8495
Email: zama@rutgers.edu
By Laura Eppinger, Salem County 4-H Agent, Rutgers Cooperative Extension