Main Content
For this blog we talked with Dr. Paul Hime, Genomics Specialist. Dr. Hime is a Postdoctoral Researcher at the University of Kansas Biodiversity Institute and Natural History Museum.  He is an evolutionary biologist who uses information from genomes to understand how different organisms are related and how and why species form.  Dr. Hime helps us understand a misunderstood amphibian.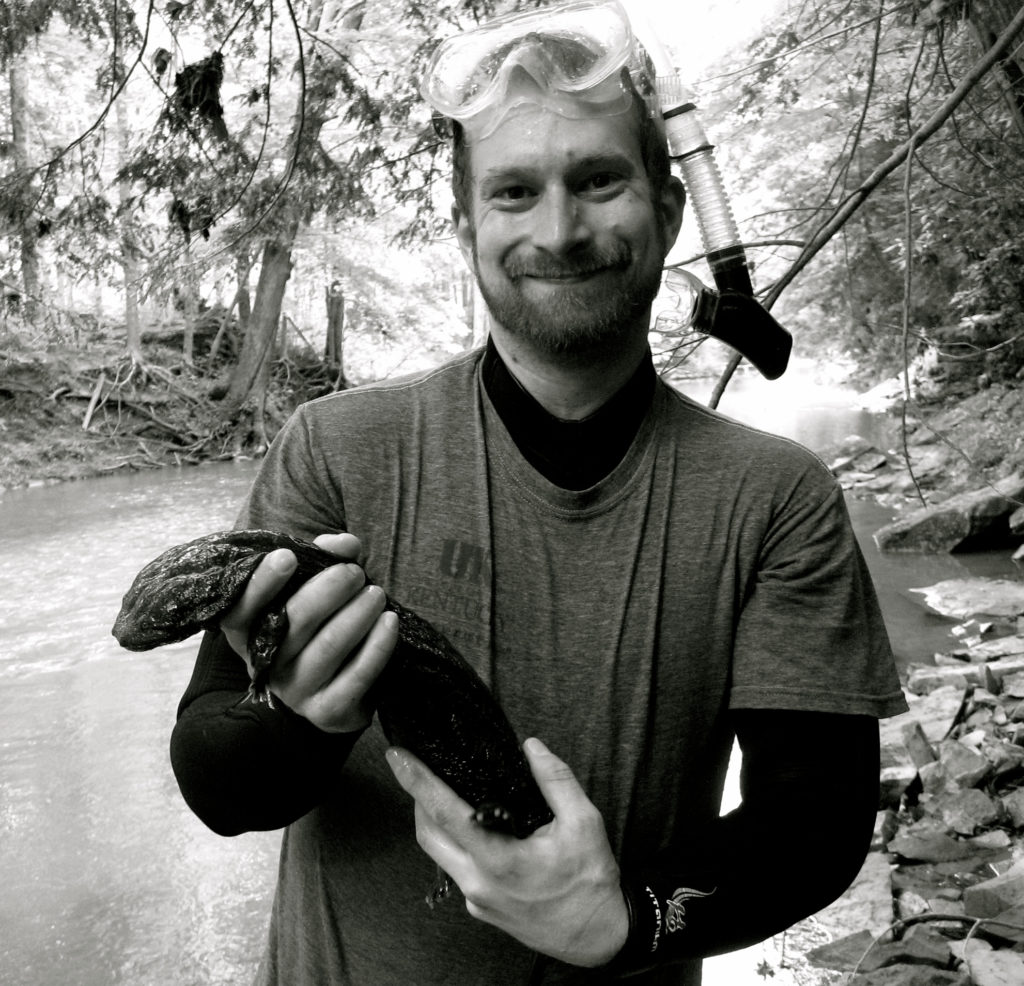 What is a Hellbender?
Hellbenders are large aquatic salamanders from North America. (Salamanders are a type of amphibian.) Hellbenders are obligately aquatic, meaning that they cannot survive on land for extended periods of time. They live under rocks in rivers and streams and feed mainly on crayfish. Hellbenders were once common across much of their historical range, but their populations are declining today because of a variety of factors.
Where are they found?
Hellbenders occur in rivers and streams in the eastern and central United States. They range from Missouri eastward to Georgia, and northward to southern New York. (They do not occur in New Jersey.)
How did they get their name?
These salamanders are in the genus Cryptobranchus, which translates in Latin to hidden gill, a reference to their internal gills. But the common name "hellbender" probably refers to their outward appearance. Apparently some of the first Europeans to see a hellbender may have thought that they had come from hell and that they were bent on returning there. Other common names include "snot otter", a reference to their slimy skin secretions, and "old lasagna sides", a reference to the folds of skin on their flanks which they use to draw oxygen from the water.
What makes them unique or interesting?
Wow! Lots of things make hellbenders unique and interesting:
They are one of the largest North American salamanders (up to 74 cm).
Hellbender populations are declining in many parts of their range and many state agencies, universities, and zoos are working to understand why and to devise ways to conserve them.
Males build nests underwater and care for the eggs for several months until they hatch.
Hellbenders are probably the heaviest North American salamander, but not quite the longest (sirens and amphiumas can grow longer).
Their closest living relatives, the Asian Giant Salamanders (genus Andrias), are the largest living amphibians (nearly 2 meters long!).
Their nuclear genomes are more than 16 times larger than the human genome! The human genome has over 3 billion letters – and the Hellbender's is more complex and longer.
Why are Hellbenders considered a threatened species?
Hellbender populations are declining in many parts of their range. There are a number of possible factors that explain these declines, including habitat alteration, water quality changes, emerging infectious diseases (such as amphibian chytrid fungus), overcollection of specimens, and human persecution. They have a very specific niche – living under rocks in rivers, and eating a diet primarily consisting of crayfish – and they are very sensitive to the quality of the water in the rivers in which they reside.
What is being done to help the Hellbender population?
There are many different ways that conservationists and researchers are trying to help the hellbender. Some research is being done in the field to see how they live, where they live, and what they need to survive. Recently, scientists have developed a way to test the water for the DNA of this species to see if it is present in a particular area. So even if they can't find the animal, they know it is there if it's DNA is detected.
Several U.S. zoos are also working on captive breeding programs to possibly reintroduce them into the wild. This is a difficult task. Hellbenders are challenging to keep in captivity. They can live up to 30 years and have very specific environmental requirements. Zoologists have had to learn how do accomplish that effectively.   It was only recently that captive Hellbenders were bred successfully.
For more information about Hellbenders visit:
Missouri Department of Conservation Hellbender Brochure
Rod Williams' Lab at Purdue has put together a great compendium of hellbender resources
Saint Louis Zoo WildCare Institute
Credit:
Paul M. Hime, Ph.D., University of Kansas Postdoctoral Researcher, KU Biodiversity Institute, Email: paul.hime@ku.edu, Mail: Dyche Hall, 1345 Jayhawk Blvd, Lawrence, KS 66045-7593
Lisa Rothenburger, County 4-H Agent/Associate Professor, Department of 4-H Youth Development, Rutgers University – SEBS
Sara Ruane, Ph.D., Assistant Professor, Department of Biological Sciences, Rutgers University-Newark