Main Content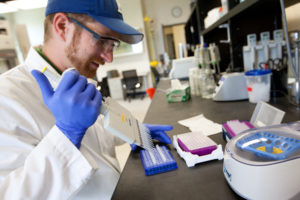 One of the many goals of your time as a 4-Her is learning life-skills to help you in college, the workforce, and beyond.
Did you know that your involvement with Animal Science through 4-H is giving you a head start on a degree in Animal Science? Here's how:
"Contact Hours": Many Animal Science degrees require students to document a set amount of hours volunteering with animals in order to graduate. This can take the form of volunteering at an animal shelter or with livestock on a farm. 4-H may already have connected you with sites where you can complete these hours.
Showmanship: Did you know that within the Rutgers SEBS Animal Science degree, there is a specialization in Production Animal Sciences? This helps students prepare to run a farm or enter agribusiness. One lesson students learn during this course of study is animal showmanship–mostly related to the sale of livestock. If you are learning this skill through 4-H, be sure to put this in college applications and show off your knowledge.
Cover Letters, Resumes, Interviews: College students are under pressure to write cover letters and create resumes when applying for jobs and internships. For most, this is the first time they are working to document all they have learned and accomplished, from paid work to volunteer activities to leadership positions held. If you complete 4-H record books in your project areas, you can draw from these to complete your first resume! 4-H record-keeping can become the key to creating and updating a professional resume.
If you have ever interviewed for National 4-H Congress, National 4-H Conference, Citizen Washington Focus, or another 4-H experience, you already have interviewing experience. 4-H Public Presentations have also offered you the chance to master (and overcome the fear of) speaking in public.
In these areas and more, 4-Hers are ahead of the curve! Remember that all the work you are doing now in your 4-H program is setting you up to be a greater leader for your future.
Laura Eppinger, Ocean County 4-H Program Associate, Rutgers Cooperative Extension