Main Content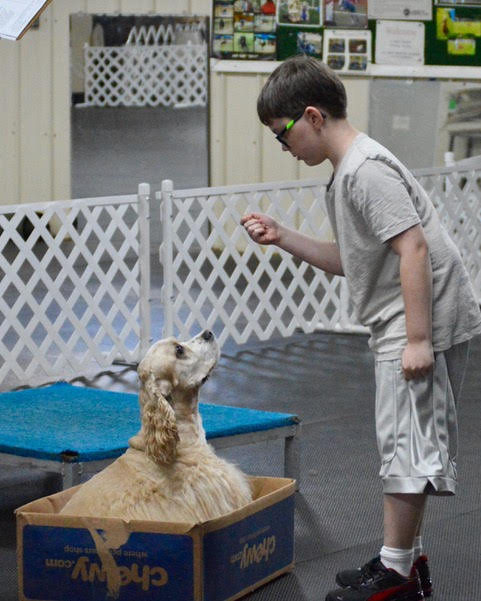 What's the first fun trick you taught your dog?  Was it paw, shake, or "high five"?  What about "speak"?  Maybe you taught your dog to spin in a circle, jump through a hoop, go through a tunnel, or sit in a box.  All of these tricks can now earn your dog a title in the AKC Trick Dog class.  If your dog can perform 10 of the listed tricks, then a Novice Trick Dog title is in your future.  Dogs that have earned a Canine Good Citizen (CGC) title can count those completed exercises towards the 10 tricks.
Trick Dog training began in the 1920's with the rise of movie star legend, Rin Tin Tin.  In 1943, the character of "Lassie" was created and his handler, Rudd Weatherwax, went on to write a training manual based on positive training techniques which we still use today.
Today there are countless books on how to train your dog.  Trick Dog training involves the dog getting physical exercise from tricks.  Everyone knows that a tired dog is a happy dog and less likely to get into trouble when left in the house alone.
Besides the physical benefits of trick training, it is also fun for both handler and dog!  Dogs enjoy learning tricks and getting praise (or positive reinforcement) during the training process.  Positive reinforcement may be a food treat, a toy, or the handler's happy reaction to a job well done.  Most trainers prefer using tiny, tasty treats as positive reinforcement because the reward is quick and easily delivered.
Tricks are simple behaviors that can be done for entertainment such as "say your prayer" or physical activities such as spin in a circle or weave through your legs.  "Paws up" is a good trick, teaching a dog to put their paws on a chair or on a patient's hospital bed.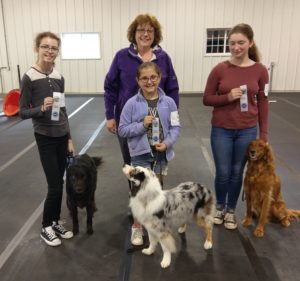 Trick training can make a beginner trainer look like a pro as both dog and handler must work as a team.  Dogs with any amount of experience, any age, and any physical limitations can participate.  Teaching tricks is enjoyable for the owners and mentally stimulating for the dogs.  Training can take place any time or in any location.  Handlers are more likely to showcase their dog's repertoire of tricks to an audience rather than demonstrating how nicely their dog performs a basic heel exercise.
Trick training is also beneficial to dogs in need of a home.  This training helps the dog connect with people, practice their listening skills, and makes them marketable with adorable tricks.  In one example, a very jumpy, happy Cocker Spaniel had trouble connecting with potential families when, in his excitement, he jumped all over new friends.  The "touch" command was beneficial in teaching the dog to focus their energy in a different direction, such as the handler's extended hand away from their legs.  Quickly, the dog learned to move away from the person and "sit" for attention.  His new family loved being able to communicate so easily with the dog and went on to pursue more tricks with this pup.
Ready to put your dog's tricks to the test?  Make sure your dog is registered with the AKC so you can earn Trick Dog titles. The AKC welcomes all dogs including both mix-breed and purebred in competition events such as Obedience, Agility, Rally, Trick Dog, and much more.  New Jersey 4-H dog project members can test their dog's skills at the State 4-H Dog Show held at Rutgers Day with the new Trick Dog class.  Take a look at the long list of possible tricks your dog can perform to earn their first Trick Dog title.
By Pat Crew, 4-H Dog Club Trainer and Volunteer, and Kelly Dziak, 4-H Program Associate, Rutgers Cooperative Extension.