Main Content
Name: Joe Nappi
Job Title: Wild Animal Keeper – Mammal Department
Organization: Wildlife Conservation Society/Bronx Zoo
Education/Degree Earned: Conservation & Wildlife Management (Delaware Valley University)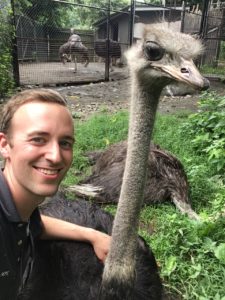 If you are a 4-H alumni, when and what club(s) were you a part of? How did 4-H help you grow as a professional?
I was not a 4-H member as a kid. I wish I had known that I could join 4-H, because it would have a been a great experience.
What does a typical work day look like for you? (hours, activities, work environment, responsibilities, etc.)
I'm a Wild Animal Keeper at the Bronx Zoo, and have a 5-day work week. My hours are 8:00-5:00, although there often is overtime during the summer months to keep some zoo attractions running longer in nicer weather, as well as if there are animal procedures taking place after typical working hours. We also have to be available during emergency weather situations, such as blizzards and hurricanes which require keepers to spend the night at the zoo to ensure there is enough staff to care for the collection.
I work within the Mammal Department at the Bronx Zoo in the Ungulate and Carnivore division, which oversees a diverse collection of species such as elephants, rhinos, tigers, giraffes, hyenas, African wild dogs, ostriches, zebras and a variety of deer, cattle, and antelope species. My key responsibilities are the husbandry of the collection in my division, including cleaning holding areas, maintaining exhibits, medicating animals as needed, monitoring the health of the collection, training husbandry specific behaviors, as well as providing enrichment to the collection. Enrichment stimulates animals to express their natural behaviors while under human care. Examples of enrichment are scents (perfumes, spices, urine or feces from other animals), toys (balls, boxes, puzzle feeders to lengthen feeding times), hiding food, etc. We train the animals to participate in their own husbandry to eliminate the stress that would come from intrusive procedures such as drawing blood, obtaining weights, crate training for shipments, injection training, etc.
What is the most enjoyable part of your career?   
My favorite part of my career is getting to work with a diverse amount of wildlife, getting to know the behaviors of specific species, and building a relationship with certain species. In particular I enjoy working with our three Asian elephants who need a lot of daily care including baths, nail care, training, and exercise.
What are some of the challenges you face in your career?
Being a zoo keeper is an amazing job, but is not always the glamorous experience that many people envision. Besides the obvious sanitizing we do of animal areas, we have to work in a variety of weather extremes and have to deal with the deaths of animals that we have made emotional connections with. The daily routine of a zoo keeper is fast paced, and our job responsibilities keep us busy, meaning we do not sit around all day playing with animals like many people seem to think. In addition, the wild brethren of the species that keepers care for are in peril in the wild. Lush rainforests are being clear cut around the world, animals are being poached for their body parts, and many once remote and wild regions are being paved over to make room for the ever expanding human population. All of this can be emotionally draining for keepers.
What was your favorite science class in school and why?
All the biology, and later animal husbandry, wildlife management, and anatomy classes I took through high school and college built an important foundation of knowledge to help me be successful in my career.
Can you share advice for youth aspiring to join your profession? (Colleges, majors, internships, tips, tricks, etc.)
The zoo keeping profession is one of the most competitive fields to get in to. The most important piece of advice I tell aspiring future zoo keepers is to get work experience. Get out there, especially during your college years and intern and volunteer. By the time I graduated from college I had worked/volunteered at ten different facilities, including dairy farms, equine facilities, a wildlife rehabilitation center, along with several different zoo internships including exotic animal diet prep, animal care internships, and zoo education.
Which of the following activities can help youth develop the specific skills needed to succeed in your field?
Public speaking
Be in leadership roles at school and in 4-H
Spend time outside in nature
Stay physically healthy
Keep a tidy/organized room
Take notes in school/4-H club meetings
Learn about current events
Take care of a pet
Community service
Wildlife observation