Main Content
One of our challenges as club leaders is to create a meaningful science experience for youth through innovative STEM activities that highlight the real skills and practices of scientists.  Most of us with K-12 school-age students, have heard about the recent education reform efforts needed for our state's implementation of the Next Generation Science Standards (NGSS for short). One of the greatest shifts from previous science education standards is a shift in focus from learning facts to understanding the ways of knowing and doing that all scientists and engineers use to study the natural world.  They include science practices like asking questions and defining problems, developing and using models, and planning and carrying out investigations.  In the next few posts, I would like to explore some of these practices and help you think about how to add a focus on some of these practices in your meetings.  Let's start with developing and using models as our first science practice to explore.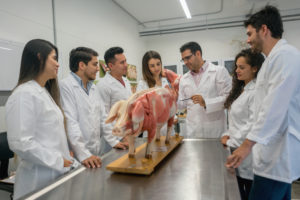 In your next club meeting, host an open discussion on scientific models: What are they?
Models can be more than just physical representations of objects and can be used to test ideas and processes in ways that may be impossible to do in the real world. Scientific models can be physical, mathematical, and or conceptual representation of an idea.  Scientists create models that are consistent with their observations, data analysis, and current explanations.
In small groups, ask your club members to list all the scientific models they can think of that they encounter in school or in their daily life (e.g. in the media).
When this list is completed, again in groups, have club members generate rules for deciding what a scientific model is. Have them summarize their findings on paper for display. Each group can then consider the conclusions of other groups and discuss.
Watch this short video from the Tools of Science series to learn more about scientific models.
Please let me know what you think and if you try this in your club meetings!  Next time we will talk about creating scientifically testable questions.
Resources about models: Next Generation Science Standards – Science and Engineering Practices