Main Content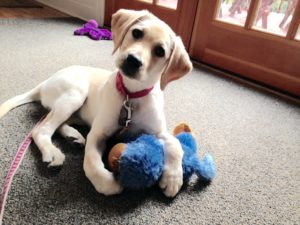 Raising a puppy can be both a delight and a challenge.  It's fun to watch them learn and grow, but hard to meet all their developmental needs to become well-rounded, happy adult dogs.  For some 4-H dog project members, the focus of their work is entirely on raising puppies that will one day serve as guide dogs for the blind.  After a year of hard work, their puppies return to The Seeing Eye for formal guide dog training.  This experience is both hard and rewarding for these 4-H members.  Read on for a first hand experience from one of these members.
The big day had finally arrived.  After months of going to meetings, reading the manual, learning the commands, and puppy sitting other club member's dogs, I was finally getting my own puppy.  Well, not exactly my own puppy.  It was a Seeing Eye puppy and after about a year I would have to give it back, but for that year it would almost be like my puppy.  Everybody said that after a year it would be so hard to give up the puppy, but I thought it would be great to help someone who is blind. Plus, I really wanted a puppy and by working with The Seeing Eye through my 4-H club, I would learn the correct way to raise a dog.
It all started when my family went to our local 4-H Fair.  When we talked to the 4-H Seeing Eye puppy raising clubs, I was so excited and knew I had to raise a puppy, too.  After convincing my mom and dad that this would be a great family experience, we joined 4-H and we were finally going to get the puppy.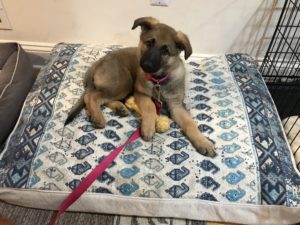 The doorbell rang and I opened the door to see The Seeing Eye Area Coordinator who handed me the most adorable ball of fur with a wagging tail and a wiggling body.  "His name is Barnaby; he is 7 weeks old," the Area Coordinator said.  Barnaby had his own special area in the kitchen.  Until he knew enough to go to the bathroom outside, he wasn't allowed to go everywhere in the house. At night he slept in a crate.  Barnaby was my responsibility.  I needed to make sure he ate the right amount of food, had exercise, learned his commands, and didn't eat anything that would make him sick.  No more leaving socks on the floor, Barnaby would eat them!  Barnaby came with a puppy collar, a puppy leash, and some food.  We were responsible for buying his food, but The Seeing Eye gave us money towards the food, provided flea and tick medication, and paid all the veterinarian bills.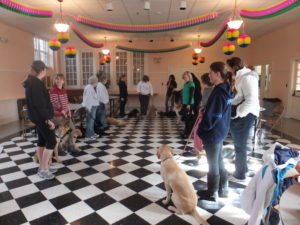 Until 16 weeks of age Barnaby was only allowed to go to the 4-H club meetings and play with other Seeing Eye dogs. After 16 weeks he would have all his shots and then he could go anywhere.  In the meetings we would work on teaching the puppies basic commands. The 4-H club leader would help us when we had questions or were struggling to make our puppy behave. The leaders also helped if we had to go away and couldn't take our puppy with us.
As a club we went on outings and trips to expose the puppies to new experiences.  It was fun taking your Seeing Eye puppy to places other dogs couldn't go. The club went to many places including a movie theater, on a train, on the ferry to NYC, to the airport, the 4-H State Dog Show, and a hockey game.  Some people took their puppy to local stores, church, school, or work.  We were supposed to take the puppy to as many places as possible.  After all, a blind person needs a dog that is comfortable going any place he/she might want to go. People were always curious about the dogs and most places were happy to help a Seeing Eye puppy on their journey to becoming a guide dog.
The year went by much too quickly.  Barnaby grew from a wiggly puppy to a beautiful adult dog.  Over the year he went to see The Rockettes at Radio City Music Hall, to a Broadway play, to restaurants, stayed in hotels, and took simple walks in the park.  To us he was part of the family, but the time had come to return him to The Seeing Eye.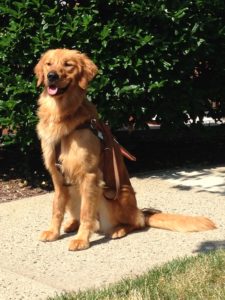 When Barnaby was 15 months old The Seeing Eye came back for him. He jumped in the van ready to start his new life.  He seemed to say "Thank you, you've been great but I have important work to do."  He would go on to be a dog that helped others by being their eyes.  Yes, it was very, VERY hard to say good-bye, but we felt good knowing that we had a part in helping someone else be independent.  As The Seeing Eye van pulled out of our driveway and we waved good-bye to Barnaby, all I could think of was……."Mom can we raise another puppy?"
By Ellen Trasente, 4-H Seeing Eye Puppy Raiser and Kelly Dziak, 4-H Program Associate, Rutgers Cooperative Extension