Main Content
While reptiles and amphibians may seem similar to most people, they are really very different groups of organisms that are not even that closely related!
At one time, reptiles and amphibians were zoologically classified as a single group due to some of their similarities and shared characteristics. Herpetology is the branch of zoology that studies reptiles (turtles/tortoises, snakes, lizards, crocodilians, tuataras) and amphibians (frogs/toads, caecilians, salamanders/newts). The word herpetology comes from the Greek work herpes which means "to crawl" and refers to the way these animals move around close to the ground.
Some of the similarities between reptiles and amphibians:
Ectothermic thermoregulation:  Both reptiles and amphibians are ectothermic (sometimes called "cold-blooded") meaning they must rely upon external sources (the sun) to elevate and help them regulate their body temperature.
Vertebrates (animals that possess a spinal column):  Both reptiles and amphibians are vertebrates possessing a central vertebral column (just like fishes and mammals).
Skin color alteration: Some reptiles and amphibians are able to alter their skin color by concentrating or dissipating melanin. Altering their skin coloration aids in camouflage and/or can help thermoregulation of body temperature.
Defensive traits: Both reptiles and amphibians use camouflage, biting and inflating of the body to avoid predation. Some lizards (reptiles) and salamanders (amphibians) have the ability to autotomize their tails which is a voluntary removal of the tail as a defensive response.
Shedding of skin: Some reptiles, like snakes and lizards, shed their skin, and so do amphibians.
Reptiles and amphibians have major differences in their biology and lifestyles though!  In fact, reptiles are much more closely related to birds than they are to amphibians.
Skin:
Reptiles have keratinized, scaly skin that may be smooth or rough, depending on scale types and their skin is not permeable to water. The keratin that makes up their skin is the same material as mammalian hair and finger nails. This impermeable skin allows reptiles like sea snakes and crocodiles to live in saline [salty] environments. Their skin can be considered mostly waterproof and they do not dry out easily. Reptiles typically must drink water directly to hydrate.
Amphibians have porous skin (meaning that gas exchange occurs through their skin and that they can breathe through their skin without always using their lungs…in fact some salamanders are lungless!). Their skin loses water easily meaning they can dry out and are somewhat dependent on staying in or around moist areas. Their skin is not waterproof, and they are unable to live in salt water environments. Amphibians absorb moisture through their skin by sitting in water rather than by drinking it directly. Many amphibians also have glands in their skin that produce toxins that make them poisonous to eat, as a defense mechanism.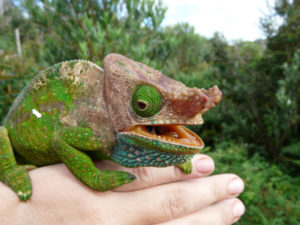 Calumma oshaughnessyi; photo by Sara Ruane
Lifecycle:
Amphibians often live in and around water or moist areas due to the porous nature of their skin, although some amphibians are adapted to dry regions, like desert toads. However, most amphibians need water for at least laying eggs and the larval stage of their life cycle. The word amphibian is Greek for "being with a double life," meaning they live parts of their lives in water and part on land. Amphibians lay soft gelatinous eggs that are permeable to water and usually in water, where their juveniles hatch. Young amphibians are tadpoles/larvae that are often completely aquatic and have rudimentary gills. As these animals mature, they metamorphose to adult forms and their gills are replaced by lungs.
In contrast, reptiles lay hard shelled or leathery, water-tight (amniotic) eggs and their young hatch as smaller miniature versions of the adults, needing only to gain in size to become adults. There are always exceptions, such as some snakes and lizards that give birth to live young rather than laying eggs.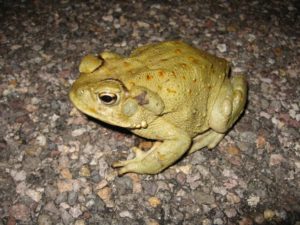 Bufo alvarius; photo by Sara Ruane
It is estimated there are 9,000+ reptiles and 6,000+ amphibians found worldwide and they live on every continent except Antarctica. With such diversity, it is easy to see why reptiles and amphibians are popular study organisms as well as pets to a wide variety of people. Enjoy your herps!
A few fun facts!
The Green Iguana (Iguana iguana) and the Tuatara (Sphenodon) have a mysterious "third eye" that is located on the top of their heads. The third eye is thought to be able to tell the difference between light and dark which may aide in escaping predators of above.
Snakes are all predators. The smallest snake, the thread snakes, eat the eggs and pupae of ants. The largest snakes, like the Anaconda, eat animals as large as deer and wild boar.
Out of the many snakes in New Jersey, only two are considered venomous. They are the Timber Rattlesnake and the Copperhead. Bites are usually not deadly if treated within a few hours of the bite (at a hospital!). Snakes are very reluctant to bite and will not do so unless stepped on or picked up.
The Wood Frog, found in NJ, has special proteins and glucose (sugar) in their blood that allows the frog to freeze during the winter without destroying their blood cells.
Many turtles, crocodiles and alligators lay their eggs in the sand or soil and allow the warmth from the sun to incubate the eggs.  In most of these species, the temperature the eggs are most constantly at determine the sex of the baby.
Some info included here is summarized in part from:
https://cpb-us-e1.wpmucdn.com/blogs.cornell.edu/dist/7/3643/files/2013/09/Herps-I-1ld0k49.pdf
http://www.reptilesmagazine.com/Differences-Between-Reptiles-and-Amphibians/
Websites to check out for more info:
National Geographic – Reptiles – This website gives good overviews with wonderful pictures: http://animals.nationalgeographic.com/animals/reptiles/ 
Smithsonian National Zoological Park – Comprehensive information on reptiles: amphibians: http://nationalzoo.si.edu/Animals/ReptilesAmphibians/default.cfm
Smithsonian National Zoological Park –
amphibians: http://nationalzoo.si.edu/Animals/ReptilesAmphibians/default.cfm
Animal Diversity Web – Class Reptilia – Includes taxonomy, pictures, and evolution:
http://animaldiversity.ummz.umich.edu/site/accounts/information/Reptilia.html
Amphibia Web – Concentrates on diversity and conservation efforts: http://amphibiaweb.org/
By:
Sara Ruane, PhD, Assistant Professor, Department of Biological Sciences, Rutgers University-Newark
Lisa Rothenburger, MAT, County 4-H Agent/Associate Professor, Department of 4-H Youth Development, Rutgers Cooperative Extension