Main Content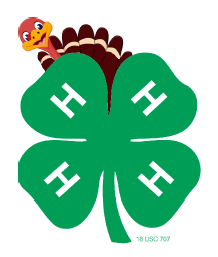 This year, New Jersey 4-H is introducing a Turkey project, offering the chance to engage families in poultry science and community service by raising turkeys for families in need for Thanksgiving.
The 4-H Turkey Raising And Youth (TRAY) project is for families who wish to participate in a community service project while also learning how to raise turkeys that will be donated to food banks with the support of Rutgers Cooperative Extension.
With 4-H TRAY, youth will:
Gain valuable life skills by caring and providing for their birds
Set goals and plan activities and strategies to achieve those outcomes
Give back to their communities through service
Learn skills in record keeping and financial management, through the keeping of a turkey raising record book
Here is the timeline for this program:
March 30, 2019: Participants attend the NJ 4-H Junior Breeders Symposium for a program orientation and turkey-raising seminar.
April 2019: Mandatory bio security webinar (details available after registration for the program).
May 2019: Mandatory educational webinar for all participants on what to expect when your turkeys hatch.
June 2019: Families receive poults.
Summer 2019: Opportunity to show birds at County Fairs.
September 2019: Mandatory webinar on the next part of the program process.
October 2019: Processing or issuing of official pardons.
November 2019: Deliver turkeys to food banks.
Interested members should contact their most local county Extension office listed below to get more information:
Atlantic County 4-H – Kendrin Dyitt

Mays Landing, NJ
(609) 625-0056
dyitt@njaes.rutgers.edu
Essex County 4-H – Marissa Staffen
Newark, NJ
(973) 353-1337
mblodnik@njaes.rutgers.edu
Warren County 4-H – Alayne Toretta
Belvidere, NJ
(908) 475-6502
torretta@njaes.rutgers.edu