Main Content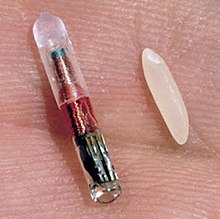 There are many ways to identify your horse, including brands, tattoos, signalments, breed registry papers, DNA testing, and iris scanning. One of the newest forms of identification methods for your horse is microchipping.  This method is becoming more popular, is easy and cost effective, and is now required for selected USEF events.  What should you know about microchipping your horse?
The Most Common Questions:
Why should I Microchip my horse?
There are many reasons to microchip your horse, these include: identification to prove ownership in case of loss or theft; disaster recovery; medical record keeping; horse registries and events; and international travel.  Additional advantages to microchipping include breeding program management, purchasing protection (for both veterinarian and potential buyer), legal matters, and ownership disputes.
What is a Microchip?
A microchip is about the size of a grain of rice.  It holds electronic data and is read by passing a microchip scanner over the area where the chip was inserted (in horses this is the middle of the neck on the left side).  The scanner emits a low frequency that provides the energy necessary to transmit the microchip's unique 15-digit code.
How is Microchipping done?
Microchipping your horse is relatively easy and often innocuous to your horse.  A trained veterinarian or horse care professional can assist you with this procedure.  The microchip is inserted into the nuchal ligament. This ligament is located in the middle of the horse's neck on the left side.  The area on the neck is sterilized, and the chip is then injected using a needle.  The procedure does not take long and can be done during a routine vet check or farm visit.
Great Resources:
Learn more by checking out these great resources.
Written by Mary Howard, Gloucester County 4-H Volunteer and Carol K. Ward, Somerset County 4-H Agent, Rutgers Cooperative Extension.