Main Content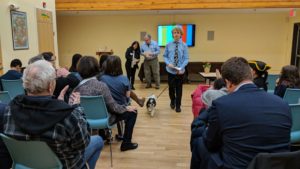 The school year, and a new 4-H year, are just beginning! But it is never too early for 4-H'ers to start thinking about club, county, state or national public presentation opportunities.
How can you explore and showcase knowledge of animal science topics in a 4-H public presentation? Here are some ideas:
Demonstration: This is already common practice in many counties. If you own an animal, you might practice your showmanship during your Public Presentation. Your topic might be grooming for your animal, checking for signs of illness or preparing for trips to the vet.
Illustrated Talk: If you have a passion for an aspect of animal science, why not share it in your Public Presentation as an illustrated talk? You may make a PowerPoint or Prezzy to help others identify the different breeds of an animal. Or, what about sharing photos of the tools an animal science professional uses–from veterinary technician to a biotechnologist?
Formal Speech: A formal speech has no visual aids. You may bring note cards, or you may challenge yourself to memorize and recite your speech. Why not talk about what Animal Science means to you, or retell the story of the moment you knew you had a passion for work with animals? You could write a persuasive speech about why every child should join a 4-H club.
Check out the NJ 4-H Public Presentations Member Guide for tips on how to give a successful public presentation!
Laura Eppinger, Program Associate of Ocean County Cooperative Extension