Main Content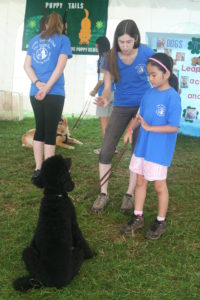 It's a new 4-H year!  This is a great time to set new goals for yourself in the coming year.  What do you want to accomplish this year?  What skills do you want to develop?  How will you provide new and fun challenges for your dog to strengthen your bond?  The New Jersey 4-H Dog Project Record Book is a great resource to help 4-H members set goals for both themselves and their dogs.  The book event provides examples at various experience levels so there are plenty of ideas to help you get started.
When creating your list of goals for the year, keep in mind they should be S.M.A.R.T. goals.  This means that your goals are Specific, Measurable, Attainable, Relevant, and Time-bound.  Goals that meet this criteria will keep you on track to success while stretching your skills.  Let's examine each criteria.
Specific (S)
Your goal should be clear so you feel motivated in working towards this goal.  Consider these questions when drafting your goal:
What do I want to accomplish?
Why is this goal important?
Who is involved?
Where is it located?
What resourced or limitations are involved?
Measurable (M)
In order to track your progress and stay motivated, you will need to set some standards or deadlines.  A measurable goal should be able to answer questions such as "How much?", "How many?", and "How will I know when it is accomplished?"
Attainable (A)
An important part of the 4-H experience is trying new things to stretch your skills.  Growth happens when we step outside our comfort zones to take on new challenges.  Just make sure the challenge you've set for yourself is something achievable.  Think about what barriers you may encounter that could prevent you from successfully completing this goal.  Are these barriers something you can work through with the support of others?
Relevant (R)
This criteria ensures that the goal you set matters to you, to others, and aligns with your other goals.  Goals that hold little value are easily forgotten.  Focus your energy on goals that hold meaning to you and your community.  Your goal should be worthwhile, match the efforts/needs of others, and be something you care about.
Time-bound (T)
Every goal needs a target date to hold yourself accountable.  This criteria is more than just the end date, but more of a series of mini-deadlines.  Work backwards from your final deadline and think of what needs to be accomplished a week before that deadline, a month, two months, etc.  Then, focus on what you can do today to launch yourself on the right track.
Now that we know what information S.M.A.R.T. goals contain, let's look at some suggested goals for both 4-H members and their dogs.
"I will train my dog to complete the recall exercise in obedience."

S – Focus is on a specific obedience exercise.
M – Dog will demonstrate learned skill at dog show competition.
A – This is a core skill all 4-H members should teach their dogs.
R – Recall is a safety measure to ensure a dog will come when called.
T – This skill is developed over several training sessions and can be perfected over years.

"I will learn the various AKC recognized breeds so I can advise others on picking the best breed for their family."

S – Focus is on enhancing knowledge of dog breeds.
M – Knowledge is demonstrated through conversations and (optionally) dog quiz bowl events.
A – Members should familiarize themselves with as many dog breeds as possible.
R – Supports member's growth as a subject matter expert.
T – Requires committed studying over a period of time and can be enhanced over years.

"I will lead icebreaker activities at the next club event to help members bond."

S – Focus is on creating a sense of belonging within a club.
M – Activities will be presented at a future club event.
A – There are plenty of icebreaker games available for various group sizes and interests.
R – Supports a sense of belonging and inclusion for all club members.
T – Requires preparation in selecting the best choice icebreakers, gathering materials, and collaborating with club leaders.
Keeping your goals for the new 4-H year S.M.A.R.T. will ensure a great start to your 4-H year.  If you need help creating S.M.A.R.T. goals, be sure to speak with your club's leaders and trainers.  They are committed to your positive growth, too, and want to see you be successful in the coming year.  Your club's leaders are a valuable resource because they can help you identify next level challenges to build upon your skills from last year.
By Kelly Dziak, 4-H Program Associate, Rutgers Cooperative Extension