Main Content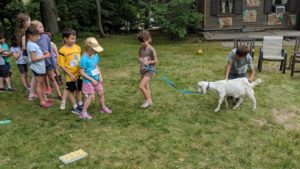 Last month we shared information about curriculum and resources available to lead urban livestock projects in urban and suburban areas. One reader came back to us with a great question: "If we don't have bees, rabbits or chickens, can our youth still get involved with animal projects?"
The answer is yes!
If your family or club cannot commit to raising your own animals, there are 4-H partnership models that can help youth participate in non-traditional animal projects. Some of these partnership models include:
1. Non-ownership animal projects: 4-H clubs partner with community members, businesses and county parks to help care for animals not owned by the club members or leaders. New Jersey 4-H offers a template to have a successful lease agreement called the 4-H Animal Lease/Borrow Agreement.
2. Invite 4-H clubs to present in your county: 4-H members are often engaged in public speaking opportunities. A great opportunity to involve animal science in your 4-H club or program is to invite a 4-Her as a guest speaker from a local county who is involved in an animal project. 4-Hers love showing off their animals, and their animal husbandry skills!
3. Visit a local farm: Consider a field trip to Rutgers Farms. Located at Rutgers—New Brunswick, this student-run farm offers engaging tours that teach participants about animal care. Check out a compiled list of more local filed trip options on this blog.
4. Visit a 4-H Fair: 4-H fairs offer youth a chance to showcase projects they work on throughout the year. At many of the 4-H fairs in New Jersey, 4-Hers showcase their animals and are onsite to talk about their work. This is a great opportunity for your club to engage with other 4-Hers and interact with animals. Check out the NJ-4H website for a listing of County Fairs.
For more than 100 years 4-H has engaged young people in animal science with hands-on learning. Connect with your local 4-H county office to learn about more ways to get your community involved in animal science!
Marissa Staffen, Essex County 4-H Agent