Main Content
Alpaca wool is just like sheep wool right?
Well, not exactly. It is quite a misconception that the wool you get from an alpaca is the same as the wool you get from a sheep. Alpaca wool is usually called "fiber" or "fleece" instead of wool to help differentiate it from a sheep's wool. So what's the difference?
In general, alpaca fleece is stronger, lighter, warmer, and more resilient. Alpaca fiber is also naturally hypoallergenic because it lacks lanolin (meaning it does not irritate your skin as sheep's wool sometimes does). Lanolin is the fatty substance found naturally in sheep's wool that is most often used for making soaps and lotions. Most people who are sensitive to wool find that they can wear alpaca without the itching or irritation they feel from wool because alpaca fiber is smooth. Alpaca fiber lacks the scales found in wool, which causes the strains to feel smoother.  Additional performance characteristics of alpaca fiber include stretch, water repellency, and odor reduction. For travelers, clothing made from alpaca is desirable because it is wrinkle-resistant.
Because of its soft texture, alpaca fiber is sometimes compared to cashmere. Many farms produce extremely soft fleece through the promotion of quality breeding programs. These breeding programs focus specifically on creating 16-18 micron fleece – this micron range is classified as Royal Alpaca and is quite luxurious to touch.  Wait – what's a micron? A micron is a measurement of length equivalent to one millionth of a meter. This unit of measurement is used to measure the width of a single alpaca fiber to determine its softness and fineness. Let's do some comparisons: a human hair is at least 100 microns, a llama hair is between 55 and 65 microns, and an alpaca hair ranges from 30 microns to 16 microns.  Making a human hair approximately five times thicker than an alpaca hair! The smaller the micron, the smoother and more luxurious the feel of the fiber.
Alpaca fibers are divided into classifications:
| | |
| --- | --- |
| Royal Alpaca | < 18 Microns |
| Super Fine or Baby Alpaca | < 20 Microns |
| Fine | < 25 Microns |
| Medium | < 30 Microns |
| Strong | 30+ Microns |
| Mixed pieces or short fibers (used mainly for felting) | 32+ Microns |
The fiber also has the luster of silk, making it even more coveted. It can be easily dyed any desired shade. According to the ARI (Alpaca Registry, Inc.) there are sixteen recognized alpaca colors:  white, beige, light fawn, medium fawn, dark fawn, light brown, medium brown, dark brown, bay black, true black, light silver grey, medium silver grey, dark silver grey, light rose grey, medium rose gray and dark rose grey. However, the Alpaca Owners and Breeders Association recognize 22 colors.  The additional 6 colors come from combinations of the solid colors.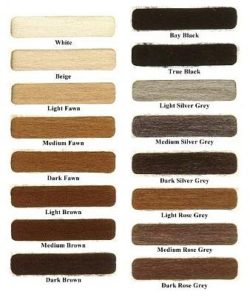 Alpaca fleece also tends to be warmer than sheep wool because alpaca fiber is completely hollow whereas the sheep's wool only contains pockets of air.  This extra space for air creates a greater thermal capacity and allows for more warm air to fill the textile and provide extra warmth over its sheep's wool counterpart.  Alpaca fibers are similar to a polar bears fur because both fibers allow air to permeate the surface and become trapped inside for a warm wearing experience!
Alpaca fibers are hypoallergenic, smooth, fine, water resistant, moisture-wicking, soft, luxurious, easy to dye, and very warm!  Easily making it a SUPER fiber!
Written by Michelle Teitsma, 4-H Program Associate