Main Content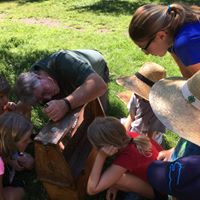 Many of our urban and suburban youth have limited interaction with livestock. 4-H livestock projects, although not typical to urban or suburban areas, are possible and are becoming quite popular. In addition to learning about animal science, there is a great opportunity to teach young people about entrepreneurship.
Does this mean 4-Hers bring cows to the into city? Not necessarily!
Michigan State University published a curriculum guide to teach entrepreneurship for youth involved in livestock project called the Youth business guide to success: Make the most of your 4-H market animal project. Participating in these projects can teach valuable life skills including building social relationships, record keeping, decision making, goal setting, knowledge and care of animals, and entrepreneurship.  
Project areas around bees, rabbits, and chickens are popular and spatially-appropriate in more densely populated areas. Cornell University's Small Farm Program website offers tips for raising urban livestock. 
If you are interested in leading or learning about bees, rabbits, and chickens, click on the links to learn about National 4-H Curriculum. It's time to get started with your urban livestock program!
(Before starting an urban livestock program, be sure to check municipal law regarding each animal. Every city is different!)
By: Marissa Staffen, 4-H Agent in Essex County