Main Content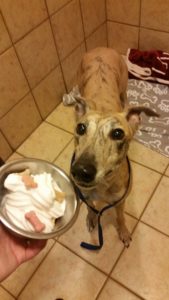 So, you've just booked your big vacation. But who's going to watch the dog? Our beloved pets are not always welcome to come along with us when we travel. While some owners choose to have a friend or family member care for their dog, others choose to check their pet into an overnight boarding facility.
Boarding your pet can be a daunting experience, especially the first time. It is very common for pet parents to be nervous about leaving their dog in a strange place. Your dog may also experience some anxiety while in this new environment, so it's important to know how you can best be prepared to give both you and your pet some peace of mind.
Choosing a place you feel comfortable with is the first step.  If at all possible, start looking for a boarding facility long before you plan to go away.  Read reviews, compare amenities, and decide what features are important to you. Visiting boarding facilities in person can be beneficial for both you and your dog. You get an opportunity to ask any questions you may have and see how your dog reacts to the new environment and the staff that works there.
Always make sure your pet is up to date on their vaccinations. Ask the boarding facility you choose which vaccines are required and what documentation is needed. In addition, if your pet has any medical conditions or takes any medication, be sure to bring that to the attention of the boarding staff in advance.  There may be restrictions or additional fees for medicating your pet. And always make sure you bring enough medication for the duration of your dog's stay.
Bring along a small blanket or bed to make your dog more comfortable. This can be especially important for senior pets who may need some extra cushioning. You can also send along a toy or two, but use caution. Some dogs can become destructive in a new environment, even if they never tear anything up at home. If your dog is a chewer, you may want to include a durable bone or toy that can keep them busy.  Check with your boarding facility for any restrictions or suggestions they may have for what belongings you may bring.
If you can, it is recommended that you bring your dog's food from home. Some boarding facilities offer in-house meals, and it is tempting to take advantage of that. But a sudden change in diet coupled with a new environment can make some dogs refuse to eat, or even get sick. Bringing their normal diet and some of their favorite treats can help them to feel at home. It is also completely normal for dogs to eat a little less than they normally do at home. Don't be alarmed when you receive some leftovers at check out.
Once you return home with your pet, it may take a day or two for them to return to their normal routine. It is important to remember that their sleeping and eating schedules may be off from the normal routine. They may be very tired and want to drink a lot of water. This adjustment period will be different for every pet.
Following these tips can help you to be confident in leaving your dog in the care of someone new. The last thing you want to do on your vacation is be worried about your pet. There are many reputable, safe boarding facilities out there to choose from staffed with people who want nothing more than to spoil your dog and keep them safe. Once you find the place that is right for your family, your dog may start begging you to visit their home away from home.
By Helena Allison, Pet Boarding Supervisor & Kelly Dziak, 4-H Program Associate, Rutgers Cooperative Extension