Main Content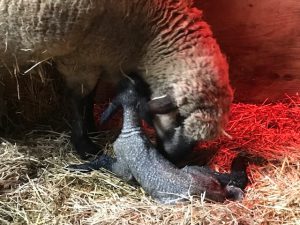 Lambing can be a stressful time for both shepherd and sheep alike. Understanding different behavioral signs in sheep provides insight for shepherds when making management decisions. Behavioral signs often precede other physical signs and can be used as an early detection system.
Remember, not all ewes will exhibit all of behaviors described below. They tend to be more common in experienced mothers than first timers.
Days Before Delivery
Reduced interest in feeding

Ewes may have a decreased appetite and spend less time eating, however a ewe with no appetite could be ill.

Hoof stamping, pawing at the ground
Restlessness, pacing
Isolation from the rest of the flock. Other ewes who are close to delivery may steal any new lambs they encounter.
Increased avoidance of people
Watch ewes exhibiting these signs closely. Bring the ewe into the barn or a lambing pen, especially if weather conditions are unfavorable.  It is much easier to monitor and assist ewes in the barn than it is in the field! It's best to bring all the sheep into a smaller area, especially at night, so they are more easily observed.
Early Labor (12 – 24 hours before delivery):
During this time, the ewe's cervix is gradually dilating in preparation for birthing lambs.
Increased pacing, looking behind herself, as if to check for lambs.
Grunting, rapid breathing, or soft bleating.
Full Labor:
As contractions accelerate, the ewe's behavior may be markedly different. Experienced mothers may deliver with few of the early indicators, however most will still demonstrate signs of full labor.
Ewes often deliver standing up, however ewes may lay down on their sides.

While on her side, a ewe may hold her legs straight out or off the ground.
Ewes should still be able to keep their heads upright during this time. A ewe unable to lift her head may be in distress.

Increased grunting and continued heavy breathing.
Warning! Struggling ewes may squat, as if to urinate, or strain and arch their backs. These may be signs of pain. At this point, check the ewe closely as the lamb(s) could be in an incorrect position for delivery.

If you do not have experience manipulating and pulling lambs, contact your vet and/or 4-H leader for assistance.
After delivery:
Once the lamb is on the ground, the ewe will quickly spring to action to care for it.  Most ewes care for their lambs readily and should not be interrupted unnecessarily, as this time is essential for bonding.
After lambing, ewes should exhibit the following behaviors.
Cleaning the lamb by licking it, starting with the nose first.

If the ewe does not fully clear the nose and mouth, you may need to clear the mucus yourself.

The ewe may only clean the head of her first lamb if she's going to have multiples.

The ewe will turn her focus to the second delivery.
After all lambs are on the ground, the ewe should finish cleaning both.

Ewes should take a strong interest in all their lambs, alternating between cleaning one and then the other.
Begin nursing and bonding

Maintain visual contact between the ewe and her lamb(s).
Ewe should encourage nursing by bleating, and nuzzling the lambs.
When the lamb has successfully latched on to a teat it will wiggle its tail and nurse. The ewe will rub the dock area of the lamb with her nose to reinforce suckling behavior. It may take a few attempts for the lamb to latch on properly.

Increased defensiveness or aggressiveness towards people or other ewes.
Aggressiveness towards other lambs, especially older lambs who may attempt to nurse.
Once the placenta is passed, the ewe may eat it, but it is not recommended. Remove the placenta from the stall if possible.
If a ewe does not take interest in her lambs, this is a sign that something is wrong. The ewe may be overly exhausted, ill or having difficulty delivering another lamb. Make sure the lamb is breathing and kept warm. Contact your vet or 4-H leader for assistance.
Following birth, 4-H members need to remember to "strip, clip, and dip:"
Strip the waxy plug from the ewe's teats
Clip the umbilical cord
Dip it in iodine
It is important to remember, not all ewes will demonstrate all of these behaviors before or during lambing. Discuss lambing behavior with your club leader, experienced members, or shepherds in your area to gain more insight into the range of normal behaviors. Understanding sheep behavior is a critical management tool that will reduce stress to both sheep and shepherd.
Visit this link to view a video of a ewe giving birth.
For more information:
Alabama Cooperative Extension Fact Sheet: Lambing
By Mary McLaughlin, Somerset County 4-H Volunteer