Main Content
Name: Kelly Griffin
Job Title: Assistant Manager
Organization: Bed and Bark-Dog Boarding and Training
Education/Degree Earned: B.S. Animal Biotechnology and Conservation: Zoo Science at Delaware Valley University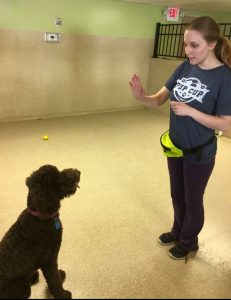 Are you a 4-H alumni?
I am not a 4-H alum.
What does a typical work day look like for you?
A typical work week for me: I work 6:30am-3pm Monday through Wednesday and 1pm-8pm Thursday and Friday, working 1 weekend a month Saturday 7am-1pm and 5pm-8pm, and Sunday 7am-1pm.  Because of my leadership position my responsibilities include creating the monthly employee schedule, handling time off requests/call offs, ensuring that all of the animals under my supervision are cared for properly and receive all the proper food, medication, and vaccinations. I handle inventory for the business; ensure employees are performing their duties correctly; training new staff; planning and running weekly, monthly, and quarterly staff meetings; writing new protocols; handling clientele relations; cooperating with animal hospitals to receive up-to-date vaccination information for the dogs that will be boarding with us; and coordinating with our veterinary hospital to create appointments for any remaining necessary vaccinations. I also coordinate all of the dog training done at our facility through operant conditioning.
What is the most enjoyable part of your career?
The most enjoyable part of my career comes when we have animals that get extraordinary care and have owners that recognize this and are grateful for our services.  We often catch chronic illnesses in pets that the owners don't know and treat them while they're away.  We also give extra special care to animals that are stressed due to the boarding process, etc. Seeing happy and healthy animals is what it's all about.
What are some of the challenges you face in your career?
There are lots of challenges in my career: hectic schedules, working on weekends/holidays, maintaining clientele, and managing a large staff of people is all difficult, but it's all worth it for the outcome.
What was you favorite science class in school and why?
My favorite science class in school was Animal Behavior. I loved learning why animals behave the way they do and how we can use these principles to help better care for them. I use the materials I learned from this class in my job every day.
Can you share advice for youth aspiring to join your profession?
My advice for those wanting to join my profession is to keep your options open! I never would have dreamed in a million years that I'd be doing what I'm doing now, but I love it! Your life will take a ton of twists and turns, but stick with what you love to do! Work hard in school, take every opportunity you can to learn in college and in internships, and be open to new things.
What are some activities that can help youth develop the specific skills needed to succeed in your field?
Public speaking, write stories/journal, be in leadership roles at school and in 4-H, stay physically healthy, keep a tidy/organized room, take notes in school/4-H club meetings, babysit/work with kids, take care of a pet.
By Kendrin Dyitt, Atlantic County 4-H Program Associate, and Amelia Valente, Monmouth County 4-H Program Assistant, Rutgers Cooperative Extension