Main Content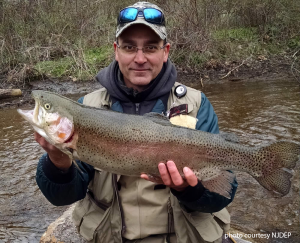 New Jersey is a great state to learn about fish! Almost half our counties are on the Atlantic Ocean offering opportunities to learn about marine species. Lakes and streams throughout the state are home to several freshwater fish species.
Why study fish?
Fish is a significant food source for millions of people across the world. It's estimated that as much as 25% of the protein consumed by the world's population comes from fish. Environmental stresses such as overfishing and pollution are stressing fish populations globally. With populations declining, fish research becomes increasingly important. Research in ichthyology (the study of fish) provides valuable data to inform policies to protect fish.
What do fish biologists do?
Fish biologists may work for government agencies, consulting firms, non-profit organizations, or universities. Their work may consider questions such as how to protect some fish species while getting rid of invasive species. They may study fish populations to learn about where they live, how long they live, what they eat and where they migrate.
The New Jersey Department of Environmental Protection, Division of Fish and Wildlife is currently using radio telemetry to study the movement and use of habitat by stocked Rainbow Trout. This involves implanting a small transmitter in the trout's abdomen area.
This month's field trip takes us to the Pequest Trout Hatchery in Warren County.
Where:
Pequest Trout Hatchery and Natural Resource Education Center, Route 46 between Great Meadows and Buttzville (9 miles west of Hackettstown).
Click here for Google Map Directions
When:
The Interpretive Center is open year-round Monday-Friday, 9 am-4 pm
Trails are open daily, dawn until dusk
Wildlife Management Area, 5 am to 9 pm daily
What's There:
Many recreational opportunities available. These include fishing, hunting, hiking, bird watching and nature photography. There is also an archery range and dog training area.
Maps, a trail guide and a self-guided tour of the trout hatchery are available online here.
4-H Groups
The Pequest Trout Hatchery offers many group programs available Monday—Thursday 10 am to 2 pm. Groups must book at least a month in advance and include 10-25 participants. Some programs are available year-round, others only between April and October. Below is a sampling of some of their programs. To see all of them, click here.
Trout Habitat Exploration (April-October, Grades 5-12, approx. 2 hours)
Hike along the Pequest River looking at the river ecology and explore what makes the river a good home for trout. We will take a hands-on look at shelter, oxygen, water temperature, food, and space in the river.
Fish Fun Games (Year-round, Grades K-12, approx. 2 hours)
Learn about the habits of fish through a variety of hands-on games that will educate you about fish, their biology, their habits and some of the challenges that they face in rivers and ponds.
Habitat Hike (Year-round, Grades 4-12, 2-3 hours)
Students will visit three distinct habitats in the Pequest Wildlife Management Area. In this Session, students will distinguish between three distinct habitats (upland field, forest, and wetland), recognize that wildlife is dependent on the vegetation and define concepts such as succession, biodiversity, carrying capacity and species richness.
To schedule a trip for your group use the Pequest Group Program Registration Form
By Dave Foord, 4-H Senior Program Coordinator, Rutgers Cooperative Extension