Main Content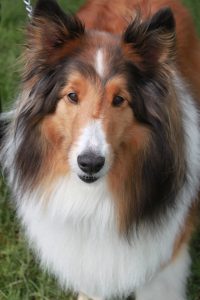 Take a look around and you will quickly notice dogs come in a wide variety of physical and behavioral characteristics.  The wolf may be their ancestor, but many dogs look very different from their wild origins.  That is because humans have carefully crafted each breed to fit a specific need or interest.  As a result, there are hundreds of breeds across the world.  There are dogs specifically designed to guard and move livestock.  Other dogs help hunters track, catch, and retrieve prey.  Some dogs are protectors that work in law enforcement or other service roles.  Search and rescue teams also use dogs in emergency situations.  Throughout history, dogs have filled whatever needs we have, the most important of which is companionship.  It is for this reason that humans have maintained a close relationship with dogs and continue to develop new breeds.
To organize all these dog breeds, many organizations group similar breeds together.  The American Kennel Club (AKC) places dogs breeds into seven categories including Hounds, Herding, Terrier, Toy, Working, Sporting, and Non Sporting.  At confirmation dog shows, judges are tasked with selecting the dog that best fits the breed description.  Imagine how difficult it must be to select only one dog out of a collection of similar looking individuals.  The AKC website offers extensive information on each breed including their history, characteristics, and care needs.  This is a great resource to explore less common breeds you may not see in the neighborhood.  Another resource to consider is Animal Planet's Dogs 101.  This show highlights many different breeds and interviews experts such as behaviorists and veterinarians on the ideal home for each breed.
All of these different dog breeds are the result of selective breeding by humans.  We choose which dogs to breed together in order to produce puppies that match our desired characteristics.  If we want a fast dog to chase down prey, we would breed a two fast dogs together to create a litter of fast puppies.  Over many, many generations only the fastest dogs would be bred until the offspring are nearly identical replicas of their parents.  Thus, a new breed of dog is born!  Explore selective breeding further using the AKC's "A New Canis Familiaris".  This activity encourages participants to consider both the physical and behavioral characteristics of mother and father will impact their offspring.
By Kelly Dziak, 4-H Program Associate, Rutgers Cooperative Extension