Main Content
You are about to purchase your first horse. Just like any other big investment, you want to be sure you are getting what you are paying for. The seller claims that the horse you are interested in is just 5 years old. But how do you know for sure?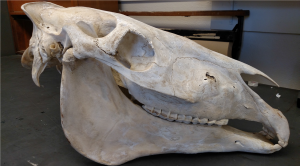 You can tell the approximate age of any horse by looking at its' teeth if you educate yourself (or your 4-H members) on how to do that. Knowing how to tell the age of a horse by their teeth is an important skill any 4-H horse project member should know. This is also knowledge a member may be able to use when competing in Horse Bowl or Hippology competitions. There are several wonderful resources you can use to teach this topic in your club meeting and it makes for a great winter club topic as the information can be taught using online resources.
Rutgers University has a fact sheet on dentition that includes horses as well as other livestock it is a great resource for discussing this topic at your club meeting.
In addition, this wonderful resource from Texas A&M University was created for AP Biology Teachers. It has a PowerPoint presentation with great pictures, and a full lesson plan. This resource can be used for a more in-depth discussion.
By Carol K. Ward, County 4-H Agent, Rutgers Cooperative Extension and Mary Howard, State 4-H Equine Presentations Coach and Gloucester County 4-H Volunteer