Main Content
New Jersey 4-H has coordinated an annual Sheep and Goat Video Contest since 2015 for members in these two projects.  The top four videos from each of the past three years were screened at the annual Junior Breeder Livestock Symposium and are available on our state website.  We think they are wonderful educational resources that could be used in many other ways as part of your club.  Here are some ideas of how to get the most benefit from these award-winning videos.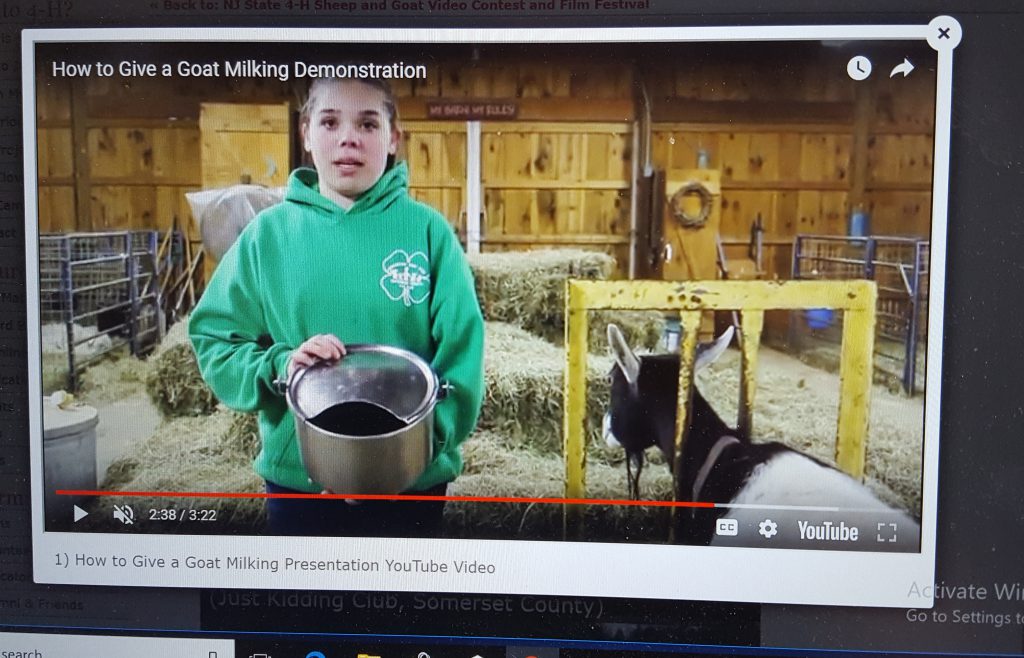 Show a different video at each of your club meetings. They are all 3 ½ minutes or less – so it won't take much time, and your members will be inspired by their 4-H peers.  Have each of your members choose a video to introduce and a month to present it.  They should come to their assigned month's club meeting prepared to lead a brief discussion on the topic featured in the video they chose.    This is a great way to have good discussions on a variety of topics featured in these videos – such as milking, nutrition and feeding, care of does during gestation, and goat housing needs.  Have members talk about what they learned in the videos and additional information about the topic they have learned from their own experiences with goats.
As a club, try one of the activities outlined in the videos. For example, one of the winning videos introduces members to goat yoga; maybe your club would be interested in grabbing some yoga mats and giving it a try.   Or, in advance of kidding season, you could have a meeting focused on putting together birthing kits, as outlined in another video.  There is also one on how to properly trim goat hooves.  As a club, you could view this video and then have someone give a live demonstration.   Another video demonstrates how to make felted soap – an activity that would be fun to do as a club.  There are plenty of great ideas for club programming featured in these videos.
Host your own goat "film festival" and show a selection of these videos. Encourage your members to discuss each of the videos they share at the festival.  Have fun planning the festival.  Who will be the emcee?  Will you serve popcorn or other refreshments?  Where and how will you project the videos?  Who else will you invite?  Each year you will have new content to share as we add additional films to our website.  Hopefully your members will also produce and share videos of their own – which leads me to our final suggestion….
Use the award-winning videos from past years to inspire your club to create its own video to enter in next year's contest. The videos must be educational and 3 1/2 minutes or less.  Clubs are encouraged to have fun and be creative in designing their video entries.  They are scored on educational value, creativity, clarity, pacing, and technical quality (sound, lighting, etc.).  Videos are typically due in early March, and all details about entering are posted here.  Organize your club early to give yourself plenty of time for next year's contest!  Start by viewing these to get some ideas.
Our thanks to all of our talented 4-H members who have produced these great educational resources!  We are looking forward to seeing the new films that will be shared at the Junior Breeder Livestock Symposium on April 7 at the Rutgers Cook Campus Farm.
by Chad Ripberger, Mercer County 4-H Agent, Rutgers Cooperative Extension