Main Content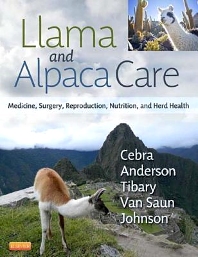 Llama and Alpaca Care – Soup to Nuts
Are you looking for a soup to nuts llama and alpaca care book? Well look no further! The recent book, Llama and Alpaca Care, 1st Edition, by Dr.'s Chris Cebra, David Anderson, Amed Tibary, Robert Van Saun, and LaRue Johnson might be the right resource for you.
This 808 page book is designed for camelid caretakers, veterinary students as well as mixed practice large animal veterinarians. Llama and Alpaca Care covers all major body systems, herd health, physical examination, nutrition, reproduction, and multisystem diseases of llamas and alpacas. There is also a section on surgery and anesthesia. The authors are world-renowned camelid specialists and experts in the field. Published in 2013, this comprehensive and uniquely global text offers quick access to current knowledge in this area. With coverage ranging from basic maintenance such as restraint and handling to more complex topics including anesthesia and surgery, this text provides the full range of knowledge required for the management of llamas and alpacas.
This book offers:
Over 500 full-color images provide detailed, highly illustrated coverage of all major body systems, physical examination, nutrition, anesthesia, fluid therapy, multisystem diseases, and surgical disorders.
World-renowned camelid experts and specialists in the field each bring a specific area of expertise for a uniquely global text.

Robert Van Saun, DVM, MS, PhD, is the Extension Veterinarian and Professor of Veterinary Science at Penn State University
Chris Cebra, VMD, MA, MS DACVIM, is a Professor of Veterinary Medicine at Carlson College of Veterinary Medicine, Oregon State University
David Anderson DVM, MS, DACVS, is a Professor and the Head of Large Animal Clinical Sciences in the College of Veterinary Medicine at the University of Tennessee
Amed Tibary DMV, MS, DSc, PhD, Dip. ACT, is a Professor at the College of Veterinary Medicine, Washington State University
LaRue Johnson DVM, Ph.D., Emeritus Professor, Colorado State University

Comprehensive herd health content includes handling techniques, vaccinations, biosecurity, and protecting the herd from predators.
Reproduction section contains information on breeding management, lactation, infertility, and embryo transfer.
Nutrition information offers detailed nutritional requirements and discusses feeding management systems and feeding behavior.
"This book is an essential text for anyone working with South American camelids. It is the first, all-around camelid specific text that guides the clinician in their approach to the diagnosis and treatment of diseases affecting these animals. It brings together the vast amount of knowledge that has accumulated over the past 20 years or so, into an accessible format." This review was offered by Claire E. Whitehead on behalf of Veterinary Record, July 2015.
The resource is available in either a hardcover or eBook format. The ISBN number is 9781437723526.
Check it out!
By Michelle Teitsma, 4-H Program Associate, Rutgers Cooperative Extension