Main Content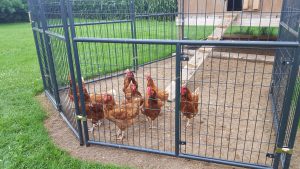 When raising poultry and waterfowl, it is important to protect your animals and prevent the spread of Avian Influenza and other diseases with biosecurity practices. The acronym WISER helps us to remember how to protect your birds and prevent the spread of diseases.
Watch your birds. Look at your birds daily to make sure that they are healthy.
Isolate – it is important to isolate any sick or new birds on your farm from others. You should isolate your birds for at least three weeks after you return from a fair or out of state show. To protect your poultry it is recommended that you keep domestic poultry away from wild waterfowl because they carry and spread Avian Influenza.
Sanitize – Sanitizing is a key components to stopping the spread of disease and protecting your birds. Sanitize everything between uses or visits to other farms, shows, and fairs.
Educate – Attend trainings and have a biosecurity plan in place.
Report – Reporting is an essential step to stopping the spread of a disease.  If you find sick and dying birds report to the State Department of Agriculture and the State Vet Office immediately.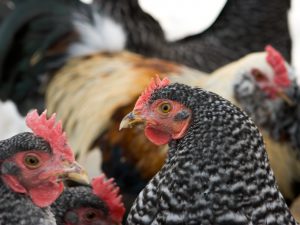 The Protecting Your Poultry video provides valuable information for 4-H Poultry Project members on the responsibilities of raising chickens and methods to keep your birds healthy and free from harm. This ten-minute video prepared by the Penn State Extension 4-H Biosecurity Team will show you how to identify the warning signs of diseases, such as avian influenza, and biosecurity measures that will reduce the risk of disease.
The information in this video is designed for a youth audience with simple biosecurity concepts pertaining to prevention, observation and action steps associated with best management practices. Biosecurity planning is the best defense against avian influenza.
Watch the Protecting Your Poultry video:  http://extension.psu.edu/4-h/projects/poultry/protecting-your-poultry
By Jeannette Rea Keywood, State 4-H Agent, Department of 4-H Youth Development, Rutgers Cooperative Extension