Main Content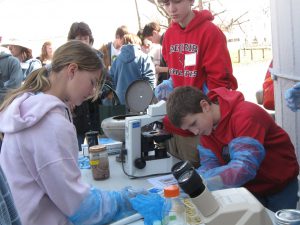 The Junior Breeder Livestock Symposium is held each year at the Cook Campus Farm of Rutgers University in New Brunswick.  It is a great opportunity for 4-H members and their adults to learn about animals – including beef and dairy cattle, goats, horses, rabbits, and sheep.  Here are four reasons to join us at Rutgers on April 7.
Learn STEM – genetics, meat science, nutrition, parasites, reproduction, and more. There are two educational sessions in the morning and two after lunch.  You get to choose from 3-5 exciting topics for each session.  Learn how to better care for your project animals.
Explore Careers – come and explore a variety of career opportunities in the field of animal science. Learn from Rutgers animal science professors, small and large animal veterinarians, farm staff, and industry professionals.  Ask them about their jobs and how they got started.  See if they have any advice for you.   There is also a session specifically about veterinary careers.
Visit Rutgers – 4-H is your first class at Rutgers! This is a great chance to visit your state university and get a taste of college life.  Learn in the same facilities as Rutgers animal science students and from some of the same professors and staff.  Meet Rutgers alumni and ask them about their time at the university and about the animal sciences major.
Compete in Fun Events – the symposium is home to a couple of fun events – the Equine Nutrition Jeopardy contest and the Sheep and Goat Video Contest/Film Festival. Nutrition Jeopardy tests teams of students on what they learned from the morning horse nutrition sessions.  To enter the sheep and goat video contest and see your entry on the big screen during the final session of the symposium, visit our website for details.  Videos are due March 12.
You should also come to meet and visit with many great 4-H families from throughout the state with similar interests.  It is always nice to get to know 4-H folks from other counties who participate in the same projects.  Lastly, you won't want to miss the chance to visit all of the animals at the Rutgers Cook Campus Farm.  If you have never been there, take a peek.
Details and the registration packet are available here.  Registration forms and payment must be mailed to Lynn Mathews at the NJDA no later than March 16.  We hope to see you there!
By Chad Ripberger, Mercer County 4-H Agent, Rutgers Cooperative Extension