Main Content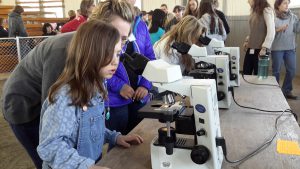 Although I did not grow up on a farm, I have always loved animals. As a kid, I had my own menagerie of cats, dogs, and guinea pigs. I have also always been a science nerd. My favorite subject in school was science and especially any science dealing with the outdoors and the ocean. When applying for college and thinking about what I wanted to do with my life, I considered a career in animal science.   Have you ever wondered, what is animal science exactly and how much science is involved in pursuing a career?
In my first post, I want to explore the academic field of animal science and how it offers the opportunity to combine a love of science with hands-on experience working with animals.

"Animal science is the study of the biology of animals that are under human control."
There is a broader range of science disciplines involved in animal science than you would think. Here is a quick list of the key areas you may study in animal science.
Physiology: How do animal bodies work? Animal Physiologists study the organs, bones and muscles of animals, in other words the animals' anatomy. Scientists can understand what makes pets, livestock and farm animals sick and what makes them healthy and productive by studying their physiology. There are sub disciplines in physiology including reproductive physiology, gastrointestinal physiology and renal physiology. Questions you might investigate in this field include: When is the right time for animals to breed? What diet changes should be made during lactation? How does stress impact immune function?
Nutrition: As an animal scientist you might study the nutritional requirements of animals. Questions you might investigate include: How does the diet of the animal affect its growth rate? How much weight does the animal gain per pound of feed consumed? How much of the weight gained in the animal is muscle? How much is fat? How much is bone? Do the nutrient requirements for an animal change over time? Animal scientists may also investigate any effects on animal health, immunity, general metabolism, etc.
Animal Behavior: Scientists studying animal behavior want to know more about why animals act the way they do. Animal behavior scientists try to understand what causes certain behaviors in pets, livestock and farm animals and what those behaviors mean in relation to the overall physiology, health and welfare.  Questions you might investigate include: How can livestock and farm owners maintain a healthy, safe, and stress free environment? How do animals behave under natural conditions? Under stimuli or in laboratory situations?
Animal Breeding and Genetics: Animal breeders use genetic (DNA) information to select which animals will become parents of the next generation.  Questions to investigation include: How can we optimize livestock breeding to improve the sustainability of animal agriculture? How can we maintain genetic diversity? How can we preserve and manage the breeding of rare and endangered breeds?
Animal Products (Food Safety): In this area of animal science, we explore the composition of products such as meat, milk and eggs important to our diet. Questions we can ask include: How can we improve our methods for raising animals for food? When we use by-products from animals, can we reduce waste and be more environmentally friendly?
You will notice one thing in common with all of the disciplines mentioned… they all ask science questions. In my next post we will talk about science questions.
By Janice McDonnell, STEM Agent, Department of 4-H Youth Development
References: 
https://en.wikipedia.org/wiki/Animal_science